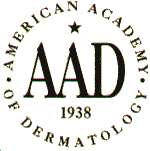 Update on Alopecia and Other Hair Disorders
Elise A. Olsen, MD, R. Rox Anderson, MD, Maria K. Hordinsky, MD
An update will be given on the pathophysiology of and new treatments for androgenetic alopecia including oral finasteride and 5% topical minoxidil. A discussion of current available treatments for alopecia areata and introduction to the new guidelines for assessment of alopecia areata will be presented. Information on the development of a new method of hair removal, the ruby laser, and available data from an ongoing trial will be presented.
What happened?
The meeting began at 9a.m. with opening remarks by Dr. Olson. Dr. Olson presented information on Minoxidil 5% and Propecia (Finasteride). What Dr. Olson primarily delivered was information already available on Regrowth's Propecia page, however there were some new and interesting statistics. The average age of Propecia trial participants in the US was 34, 31 in the international studies, and 32 in the frontal studies. The average age hair loss began was 25 in the US, 24 internationally, and 25 in the frontal studies. Hair counts were evaluated using an enlarged macrophotograph. The target area was clipped and tattooed. The following results were seen in the vertex studies:
| | | | | | |
| --- | --- | --- | --- | --- | --- |
| | Slight Increase | Moderate Increase | Great Increase | No Change | Slight Decrease |
| Propecia (1 year) | 30% | 16% | 2% | 51% | 1% |
| Placebo (1 year) | 6% | 1% | 0% | 85% | 7% |
| Propecia (2 years) | 30% | 31% | 5% | 33% | 1% |
| Placebo (2 years) | 6% | 1% | 0% | 60% | 33% |
Propecia Hairloss Graphs
Propecia vs. Placebo 2 Year Hair Counts
Propecia vs. Placebo 2 Year Hairloss Results
Some patients did improve from a slight result after one year to moderate results after two years, and from moderate to great. Some improvements in results between years one and two may be accounted for because of improvement of hair quality and length of initially grown hairs throughout the second year as hairs cycle and regrow.
Hormone levels tested showed a 64% decrease of DHT in the scalp itself and a decrease of circulating DHT of 68%. Testosterone increased 13% and estradiol increased 14%. Prolactine was unaffected. Prostate volume decreased 2.6% and Prostate Specific Antigen (PSA) decreased .2 ng/mL. No effect was seen on semen production or spermatogenesis.
See example photos of Propecia study patients
Information on 5% Minoxidil was presented regarding several studies. Studies tested hair counts in a 2 centimeter square tattooed area using macrophotography. One study showed an increase in nonvellus hair count after 32 weeks of 40% on 5% Minoxidil, 30% on 2% Minoxidil and 5% on placebo. Another study showed a 60% hair count increase on 5% Minoxidil after 20 weeks and 25-30% on 2% Minoxidil. Unfortunately results level off over time and after about 110 weeks results between the two Minoxidil is similar with about a 25% increased hair count from baseline for Minoxidil 5% and around 20% for 2% Minoxidil. The topic of safety was discussed as well and the following information was presented. Only about 1.7% of a topical dose of Minoxidil is absorbed. In order for Minoxidil to affect blood pressure, a blood level of 20 ng/mL must be achieved. Serum minoxidil levels in long term clinical trials showed an absorption of 0.6 ng/mL for 2% Minoxidil and 1.2 ng/mL for 5% Minoxidil, so both are far below the threshold for systemic blood pressure effects.