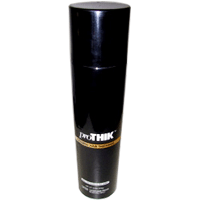 Prothik is a serious effective aerosol hair thickening system that cosmetically eliminates bald spots.
Prothik is extremely effective during transitional "Grow-out" phases, between sessions and after completed procedures.
Guarantee:
They offer a risk free trial. No questions asked refund to your credit card for 4 weeks! If you don't love it, you don't pay.
Price:
$29.95 (plus $7.50 S&H)/ two bottles
Availability:
Online at proThik.