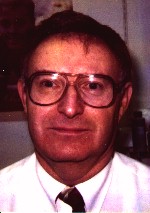 Regrowth: The first question I really had was how long have you been in the hair replacement business and what made you decide to go into it?
Emmings: Well, I've been in the business 25 years and I got into the business because I had hair loss and when I become aware and saw what was out there I thought I could do a better job.
Regrowth: How many people would you say have used your hair replacement center?
Emmings: We've had over 2,500 clients over the years.
Regrowth: How much does it in general cost to get a good hair system done?
Emmings: Well, the best hair system today is a product called CyberHair and it ranges in price from $1,800 to $3,700 dollars. What makes it unique over everything else is that the hair is 4 times stronger than any synthetic or human hair. It doesn't color fade, it doesn't lose hair, it doesn't frizz. The biggest thing is it doesn't lose hair style. You know you can go into water and it looks like your own hair. It's an incredible product. We started with the product 8 months ago and the clients just love it. It's like they grew their hair back.
Regrowth: Who is the appropriate candidate for a hair system compared to someone who would be inappropriate for medical or medicinal treatments or transplants?
Emmings: I think someone that has hair loss in the crown area and not a lot of hair loss in the front would be better for Rogaine or Propecia. If they're starting to lose their hair in the front then they're better off looking into a hair transplant or we have something new it's called micro-point link and it was just introduced into the industry.  What it is it's actually adding four hairs to one hair and it's tieing four cyberhairs to one hair. And of course it has to be repeated but the advantage is if somebody wants to go to a class reunion and they want to fill a spot in they can come in and have hair added to their existing hair system.
Regrowth: What percentage of people do you see who keep their hair system and are happy with it?
Emmings: Well the majority of our clients are thoroughly happy with everything or they get their money back. That's how come we've been in business for 25 years. One of the things I can say is that I've never had a complaint against me at the better business bureau and that's quite a feat in this industry.
Regrowth: Are there some people who come in and you know they won't be happy no matter what you do for them, and if so what do you tell them?
Emmings: Usually people that come in that are looking for hair and they really want to grow their hair back… I try to steer them to a hair transplant program or just a corrective hair style for what they've got.  There's products.. we have a product called steroquin that's a hair thickener and all it does is dialates the hair it doesn't make it grow.  It does help a lot.  It gives probably anywhere from 10 to 15 percent more appearance of hair, but if they're not wanting a hair system I don't try to sell them one.
Regrowth: Which do you believe are superior, human hairs or synthetic hairs?
Emmings: Well, the CyberHair is superior to anything now and the reason why is no hair color fade, no hairloss, and no style loss.  Human hair is fantastic but it is a high maintenance product.  An average human hair piece probably lasts one year and needs to be replaced because when you start coloring human hair and it's not growing the body just weakens and breaks.
Regrowth: How long does the CyberHair replacement last?
Emmings: Well it's been out two years and the clients who have it it looks like they day they had it.  We started about a year ago here and we've done real well with it.  I'd say three years or longer on the CyberHair, so really it's very cost effective.  You see there's two ways of thinking in the industry… they're not selling hair systems so much as they're selling programs.  Hair Club is an example.   They get you into a free hair unit because they want you to get into a program and you pay so much a month and they give you a new hair system every six months or so and the reason they do that is because they know their units won't last that long.
Regrowth: Which do you think is the superior attachment method:  tapes, clips, or bonding?  Or do they each have their own place?
Emmings: Well they each have their own place.  The younger people don't want a hair piece.  A hair piece and a hair system are essentially the same thing.   It's just attachments that are different.  I think if a person wants to remove it obviously they're going to have to wear tape or clips.  Those techniques are very good.  I'd say approximately 60% of my clients wear tape or clips and 40% wear bonding.
Regrowth: How long can someone wear your systems without having to take them off?
Emmings: That depends on how quick their hair grows.  We have clients here that come back every two to three months, then we have clients that come back every four weeks.
Regrowth: What sort of maintenance is required?
Emmings: Maintenance is to remove the hair unit and retighten it.  When we talk about permanent attachments, people aren't weaving hair units like they were in the past.  They're using medical adhesive.  There's different names for it, bonding, fusion, scalp lock, folligraft I think is another one they're using.  The problem with all these names is that it confuses the public.  There's a lot of claims being made about products that really don't perform. That's why I'm so excited about CyberHair, because it quite frankly – not because we sell it here – but it quite frankly is the most incredible product that has come out in the industry and I'll compare it to anybody.  If you take a hair wearer that's had another system and put a CyberHair unit on them they'd never wear that other hair system again because all their problems are pretty much solved.
Regrowth: What do you think is the future of hair replacement and what improvements will there be?
Emmings: CyberHair. *laugh* I'm sounding like a broken record here.   Better molding systems which we have – we have a thermal molding system which is a plastic that you pull over your head and it forms every nook and cranny in your scalp. That we use for our cyberhair units.  Better workmanship, better materials, and combinations with transplants.  A lot of people show these hairlines – beautiful hairlines on their hairpieces.  Well, they're lace fronts and they don't last that long.  If a person wants a brushback style he's got to wear it casual in the front or he's got to do like I did and get a hair transplant and wear your hair unit behind.
Regrowth: What do you plan to do if they ever do come out with a cure for baldness?
Emmings: Well it would probably be a good thing but I don't think it would affect my business because our clients are not going to be cured.  I think eventually we're going to see genetics – the biggest advantage we have in our state is probably the best genetics is at Iowa State University through the Medical and Veterinary lab.   You'll see it in the future but I don't think it – it'll probably happen by accident just like Rogaine because people won't die of hair loss so it's not really high on the ladder.
Regrowth: Do you think there is such a thing as a hair system that is always undetectable?
Emmings: I think if anybody looked hard enough and started digging into a persons scalp they could obviously see that it wasn't real hair.  If you get these type of scalp looking units with CyberHair or human hair that's fresh and don't start digging into the front hair line then they are undetectable.  I don't think people look that hard at them.  I think the biggest problem in our industry is that people put too many hairs in a hair replacement because they know it's going to lose it and that's our advantage with CyberHair is that we can make a light unit because we know they're not going to shed and there's not going to be a lot of mainenance for them.
Regrowth: Do you know if any people use medicinal treatments at the same time as their hair systems?
Emmings: It's difficult for them to use Rogaine if they have a frontal attachment because they couldn't apply the Rogaine.  Usually people go through a stage… they try the medicinal approach and don't get the results that they want.   They look into transplants and see that it's maybe too costly for them and the last is they come to a hair system where they end up getting the hair that they want.  If they did it in the reverse order they'd probably save themselves some money.
Regrowth: Do you see many former transplant patients who wish to conceal results they may be unhappy with?
Emmings: I've had several clients who've had bad transplants. I think doctors hide behind the name doctor. There's a lot of ethical physicians who do good work but there's a lot of bad ones out there.  They're putting fancy brochures and fancy videos out there. Just remember that if you've got 20 acres of sod you can't cover 200 acres of ground. If a person has a class 7 hair loss they're not going to get a full head of hair from transplants.  It's going to be a thin head of hair that's going to require a lot of styling aids so people have to be up front.  When they want.. a hair system, a transplant, anything, they need to go to a professional with a picture and say, "This is the real results that I want to accomplish." If the person is ethical and no they can't do it they should say no, we can't do this. There's a lot of doctors out there who aren't ethical because they're not giving people a realistic futures with hair transplants.