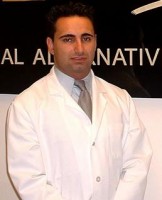 Regrowth interviewed Dr. Alex Khadavi, MD, CEO of Advanced Skin & Hair, makers of Revivogen.
Regrowth: Dr. Khadavi. Please tell us a little about your background.
Dr. Khadavi: I began my studies at UCLA where I received my Bachelor's degree in Biology. I continued my education at the George Washington University School of Medicine, obtaining my doctor of medicine degree. Subsequently I completed my residency in dermatology at University of California – San Francisco, where I was Chief Resident in Dermatology and received the Society of Investigational Dermatology Award for outstanding research.
My research background includes studies on the Human Genome Project, Organ Transplant Research, Gene Therapy, and development of novel therapies for skin cancer and Androgenetic alopecia.
Presently I am in private practice in the Los Angeles area, Clinical Instructor of Dermatology at the University of Southern California, and CEO of Advanced Skin & Hair, Inc.
Regrowth: What made you interested in hair loss and its treatment in the first place?
Dr. Khadavi: I became concerned about my own hair loss when I began to lose my hair at the age of 20. At that time the only available product for hair loss was prescription Rogaine. I was a pre-med student at UCLA and became very interested in hair loss, its causes and its treatments – especially in regard to male pattern hair loss. My moment of enlightenment was when I learned that Dihydrotestosterone or DHT was the key hormone that began the whole cascade of events leading to hair loss. By this time I was in Medical School where I became familiar with pharmacology; and one medication, in particular, captured my attention: Proscar or Finasteride. At that time Propecia was not available yet and Proscar was only used for the treatment of Prostate enlargement.
Regrowth: So did you use Proscar?
Dr. Khadavi: I was very intrigued with Proscar but was nervous about taking it orally. Those fears led me to wonder if Proscar could be effectively applied topically. I spoke with a few biochemists and pharmacists at UCLA and realized that a topical delivery system was, in fact, feasible. With their help I made a formulation, which was tested on me and nine other friends. As it turned out, our tests were remarkably successful. Many of the test subjects were not only stopping their hair loss, but some were even growing their hair back. Our success was interesting to me for two reasons. First of all, it was proving that DHT did, in fact, cause hair loss and that reducing DHT production in the body could halt hair loss. Secondly, it proved that results could be achieved topically – that a localized remedy could take the place of a systemic treatment [oral ingestion of the drug].
Regrowth: Did you share your results with anyone else?
Dr. Khadavi: Yes, in fact I contacted a researcher at Merck pharmaceuticals, the makers of Finasteride, and explained to them how I was making my topical solution and achieving positive results. In response, Merck's researchers told me that that they had attempted to create a topical solution already and had found it to be ineffective. That was the end of our conversation. I felt vindicated later when the FDA approved Propecia for the treatment of hair loss, and again, last year, when Merck filed a patent application for topical use of Finasteride for treatment of androgenic alopecia. Similar to what I had experimented with over 9 years ago.
Regrowth: Coming from the medical world, why did you create Revivogen, a natural product?
Dr. Khadavi: Fortunately during my education and especially due to my involvement with various research projects I learned to keep an open mind, particularly regarding the creation of a natural product for hair loss. I studied natural ingredients that were in fact very powerful in reversing hair loss. In fact, I was very surprised to learn that some fatty acids such as GLA were even more effective than a FDA approved medication such as Propecia, and could be used topically without any systemic side effects.
Regrowth: Can you briefly describe Revivogen and its benefits?
Dr. Khadavi: Revivogen is a natural product; however, it is based on the same scientific principles behind Propecia and Rogaine. We use natural ingredients that are scientifically proven to reduce DHT production, block the androgen receptors and activate the hair follicle's growth cycle. Revivogen is safe; it is applied topically, and can be used by both men and women. Topical use of Revivogen reduces DHT production solely within the scalp and does not affect the body elsewhere. Therefore it has no systemic side effects associated with oral medications such as Propecia. I feel that Revivogen is very unique and that is why we decided to seek a patent for this formula.
Regrowth: What are the current ingredients in Revivogen and what is their purpose?
Dr. Khadavi: Gamma Linolenic Acid, Alpha Linolenic Acid, Linoleic Acid, and Oleic Acid are the most important part of Revivogen formula. They block the enzyme 5 alpha reductase, which converts Testosterone to DHT in the hair follicle cells. The fatty acids block both type I and type II forms of 5 alpha reductase enzymes up to 90%. This is far better than Propecia that only inhibits the type II 5 alpha reductase up to 70% and very similar to the new medication Dutastride or Avodart which is a dual 5 alpha reductase inhibitor. In addition these fatty acids have anti-inflammatory properties, which is important in treatment of Androgenetic Alopecia. Azeleic Acid, Vitamin B6, and Zinc Sulfate, are another set of 5 alpha reductase inhibitors, which are added as supportive ingredients. It is possible that these ingredients can inhibit the enzyme at different sites and further reduce DHT production. Saw Palmetto Extract, Ethyl Laurate, Phytol, and Beta Sitosterol, are used for their ability to block the androgen receptors. This is like shutting the door by which DHT enters the hair follicles and eventually the nucleus where it shuts down protein production. Grape Seed Extract (Procyanidin Oligomers) is used for their ability to activate the hair follicle's growth phase and have shown to be as effective as Minoxidil the active ingredient of Rogaine.
Regrowth: Is there any new research regarding the effectiveness of the current ingredients in your product?
Dr. Khadavi: A new study by UC Davis Department of Dermatology shows that Gamma Linolenic Acid, which is the main ingredient in Revivogen, is the strongest inhibitor of type I and II forms of 5 alpha reductase enzymes. The significance of this study is twofold: It reaffirms previously documented research of these fatty acids and it was performed on human cells. The following is the abstract of that article.
J Steroid Biochem Mol Biol 2002 Nov;82(4-5):393-400
5 alpha-reductase-catalyzed conversion of testosterone to dihydrotestosterone is increased in prostatic adenocarcinoma cells: suppression by 15-lipoxygenase metabolites of gamma-linolenic and eicosapentaenoic acids.
Department of Dermatology, School of Medicine, University of California at Davis, TB-192, One Shields Avenue, 95616, USA.
Although the androgens, testosterone (T) and its highly active metabolite dihydrotestosterone (DHT) play a role in the development and progression of prostate cancer, the mechanism(s) are unclear. Furthermore, 5 alpha-reductase which catalyze the conversion of T to DHT, has been a target of manipulation in the treatment of prostatic cancer, hence synthetic 5 alpha-reductase activity inhibitors have shown therapeutic promise. To demonstrate that nutrients derived from dietary sources can exert similar therapeutic promise, this study was designed using benign hyperplastic cells (BHC) and malignant tumorigenic cells (MTC) derived from Lobund-Wistar (L-W) rat model of prostatic adenocarcinoma to test the effects of gamma-linolenic acid (GLA), eicosapentaenoic acid (EPA) and their 15-lipoxygenase metabolites on cellular 5 alpha-reductase activity. Our data revealed: (i) that incubation of MTC with [3H]-T resulted in marked conversion to [3H]-DHT when compared to similar incubation with BHC; (ii) that DHT-enhanced activity of 5 alpha-reductase was inhibited 80% by 15S-hydroxyeicosatrienoic acid, the 15-lipoxygenase metabolite of GLA, when compared to 55% by 15S-hydroxyeicosapentaenoic acid, the 15-lipoxygenase metabolite of EPA; and (iii) that their precursor fatty acids, respectively, exerted moderate inhibition. Taken together, the study underscores the biological importance of 15-lipoxygenase metabolites of polyunsaturated fatty acids (PUFAs) in androgen metabolism.
Regrowth: Have there been or are there further plans for independent testing of your product? If not, how do you plan to demonstrate its effectiveness to skeptics?
Dr. Khadavi: Currently, we have initiated an independent placebo controlled study to investigate the efficacy of Revivogen in Male/Female Pattern hair loss. Since this study is performed entirely by independent investigators and placebo controlled, there should be no bias in the results. This is an ongoing study so I cannot comment on it further.
Also we recently offered a free year's supply to hair loss consumers willing to report their results. The trial, one of the first and only of its kind, has concluded and the results of all participants are now available online at www.revivogen.com. The trial involved 39 men and women aged 18 to 65 who were experiencing mild to moderate hair loss of less than 5 years duration and were not using Propecia or Rogaine prior to the trial. Out of 39 participants, 77% reported 'positive' results including decreased hair loss and increased hair thickness. Only 9 (23%) reported no benefits.
Regrowth: Do you have any plans to add other ingredients to your formula any time in the future or make any other changes to it?
Dr. Khadavi: Yes, we always try to make Revivogen better with newly discovered techniques and scientifically proven ingredients. Currently we are investigating the potential of a few natural ingredients that have shown to be beneficial for hair loss. After further laboratory and clinical testing, these compounds may be added to increase the potency of the Revivogen Product Line.
Regrowth: Are you planning on offering any new products in the near future?
Dr. Khadavi: We know that DHT it is the culprit of acne as well as hair loss, therefore we have developed a revolutionary acne treatment, which is the first of its kind. Almost all acne treatments in the market today work by reducing inflammation, unclogging the pores or killing the causative bacteria. Revivogen acne treatment goes one step further and stops the acne formation at its root by reducing DHT production, which is the cause of excessive oil production in the first place. Currently we are conducting clinical trials and will be launching the acne line later this year.
You're able to buy the Revivogen Scalp Therapy on Luxury Barber.