With more than 80 million people in the United States alone suffering from hair loss, it's not surprising that there are so many hair growth supplements available on the market today. The huge selection can make it difficult to know what products are safe and which ones might actually make a difference in the fight against hair loss. The truth is that that there are some highly effective hair loss supplements out there waiting to be discovered, provided you know what herbal remedies and nutrients have been validated by scientific research.
What Is Hair Loss?
Hair loss is a broad term used to describe excessive shedding of the hair or the absence of growth. Often, the problem is progressive with the hair gradually thinning. If the problem is long-term, bald spots may develop along the scalp.
Often, hair loss is thought of as one specific condition, but in actuality, there are many types of hair loss, including:
– Androgenic Alopecia – The most common form of hair loss, androgenic alopecia is sometimes called male pattern baldness or female pattern baldness. It occurs when the hair follicles shrink in size due to a sensitivity to the male sex hormone dihydrotestosterone. Without treatment, the condition typically progresses with baldness occurring in distinct patterns across the scalp.
– Telogen Effluvium – A temporary form of hair loss, telogen effluvium happens when the body experiences a shock. The condition can be brought on by grief, physical trauma, surgery, weight loss, childbirth or extreme stress. Telogen effluvium causes hairs that are in the dormant stage of growth to become rapidly shed, leading to widespread thinning. Typically, bald spots don't form with telogen effluvium, and the condition usually stops on its own within several months.
– Alopecia Areata – Alopecia areata is a permanent form of hair loss that usually results in total baldness. Doctors are still working to understand the cause of alopecia areata, but it is largely believed to be caused by an immune system malfunction.
– Traction Alopecia – Traction alopecia occurs when the hair follicles are placed under physical strain from injuries, wearing tight hats or from hairstyles like braids or tight ponytails. In most cases, traction alopecia is only temporary; however, if the hair follicles are severely damaged, hair may never grow back fully in the affected area.
– Secondary Hair Loss – Hair loss can occur due to nutritional deficiencies, the use of certain medications and chronic medical conditions and diseases. This type of hair loss is often referred to as secondary hair loss and requires the underlying cause of the problem to be addressed in order to halt the progression of thinning.
What vitamins and supplements really work for hair loss?
For centuries, herbs have been used as folk remedies for hair loss, and science has begun to seriously research many of these traditional treatments as well as the role that key nutrients play in hair growth. Based on the latest research, there are four vitamins and herbs that are especially promising for those suffering from hair loss.
Saw Palmetto
A plant with wide palm leaves, saw palmetto or Serenoa repens, is native to the southeastern United States. Many scientists believe that saw palmetto has an impact upon levels of male hormones in the body. Because androgenic alopecia is related to the male sex hormone dihydrotestosterone, the herb could have the potential to benefit individuals who suffer from this form of hair loss.
Two recent studies have explored the use of saw palmetto for addressing androgenic alopecia. The first, published in the International Journal of Immunopathology and Pharmacology in 2012, examined how saw palmetto compared to the prescription hair loss drug finasteride. The study included 100 men with androgenic alopecia. One group was given 320 milligrams of saw palmetto daily for 24 months, while the other group was given 1 milligram of finasteride daily during the length of the study. Although a larger majority of the men taking finasteride saw an increase in hair growth, roughly 38 percent of the men in the saw palmetto group experienced improved growth, particularly at the vertex or crown of the head.
The second study conducted at the BIOMEDICAL Trichology and Dermathology Clinic in Battipaglia, Italy, looked at how topical and oral saw palmetto supplementation benefited men and women between the ages of 18 and 48 with androgenic alopecia. The participants were divided into three groups. Group A was given a lotion, a shampoo and an oral saw palmetto supplement, Group B was given only the two topical saw palmetto products with a placebo supplement, and Group C was given only placebos of all three products. Members of Group A saw increases in hair number and mass at an average of 35 percent, while Group B saw average increases of 20 percent. The placebo group experienced no change in the number and mass of hair.
Nettles
Nettles or Urtica diocia have been used as medicine since the medieval period when early European doctors prescribed them for everything from achy joints to water retention. Today, many scientists believe that nettles have an anti-inflammatory effect, which could be beneficial for addressing numerous conditions, including hair loss.
A 2012 study published in the journal Andrologica examined how nettles could be used in the treatment of benign prostatic hyperplasia or prostate enlargement, a condition caused by testosterone. During the study, rats were given testosterone to cause prostate enlargement. One group of rats was treated with the drug finasteride while another was given nettles. Both groups showed equal improvements in prostate size at the end of a 28-day period, leading researchers to speculate that nettles could be an effective treatment for the condition. The results of the study indicate that nettles potentially interrupt the effects of male sex hormones, suggesting that the herb could be beneficial for androgenic alopecia sufferers.
Pygeum africanum
Pygeum africanum or African prune is an evergreen tree that grows throughout central and southern Africa. Ancient Africans were the first to use Pygeum africanum as medicine, using the bark to address urinary problems in men. Modern medical science has begun to examine how the bark can benefit conditions related to testosterone.
A 2010 study published in the medical journal The Prostate found that Pygeum africanum reduced the size of enlarged prostate cells in a laboratory setting. Another 2010 study published in Investigation New Drugs demonstrated that the herb prevented the growth of cancerous prostate cells. Because both prostate cancer and prostate enlargement are connected to testosterone, these studies indicate that the herb may have anti-hormone benefits that could translate to benefits when used as a hair loss supplement.
In addition, Pygeum africanum and nettles have been shown to limit the activities of important precursors to testosterone. The most notable study into the benefits of combination treatment with nettles and Pygeum africanum was conducted at the Universität des Saarlandes in Saarbrücken, Germany in 1996. The study found that both herbs could inhibit the activities of 5 α-reductase and aromatase, but that the combination was more effective than either herb used alone.
Biotin
Biotin or vitamin B7 is one of the 13 vitamins that are essential to human life and that cannot be manufactured by the body. The vitamin plays an important role in the breakdown of fats, carbohydrates and other macro-nutrients and is shown to play a role in the development of new hair cells. Hair loss is a common sign of biotin deficiency, and a recent study conducted at Massey University in Auckland, New Zealand, showed that biotin supplements could be beneficial for individuals suffering from hair loss, particularly if they are not getting adequate levels of biotin from diet alone.
Apple Polyphenols
Apple polyphenols are natural chemicals used by apple trees to defend against reactive particles in sunlight that can damage their leaves. A breakthrough study published in 2005 in the Journal of Cosmetic Dermatology revealed that three particular polyphenols in apples, procyanidin B-2, B-3 and C-1, can help regrow hair. During the study, men with male pattern baldness used a combination apple polyphenol supplement, while another group used topical minoxidil for 12 months. At the end of the study, the men in the apple polyphenol group had experienced a marked increase in total number of hairs and an average increase in hair diameter of 78.9 percent. The apple polyphenols were even shown to be 2 times more effective than minoxidil at reducing thinning and encouraging new growth.
Which shampoos should I use along with supplements?
Using a hair loss shampoo along with a supplement can help you increase the likelihood of seeing results in terms of increased hair growth and improved scalp health. Regenepure DR Hair Loss & Scalp Treatment is an excellent choice of hair loss shampoos and provides the scalp with saw palmetto and also contains antioxidant linoleic acid. The formula also contains ketoconazole, an over-the-counter medication that has been clinically shown to reduce the production of dihydrotestosterone, enhancing its benefits for androgenic alopecia sufferers.
Recommended Supplements
Among the hundreds of hair loss supplements available on the market today, five truly stand out for their effectiveness and safety, including:
1. Regenepure Essentials Hair Loss Supplement – Vitamins for Hair Loss with Biotin for Hair Growth- 90 Capsules – Regenepure Essentials Advanced Hair Loss Formula is packed with beneficial and nourishing ingredients that help curb hair loss, strengthen current hair and promote new growth in one simple step. Formulated with ingredients such as Biotin, Branch Chain Amino Acids, Saw Palmetto Extract and Apple Polyphenols, this supplement works to improve your hair, skin, nails and metabolic systems from the inside out. Other elements in this supplement include Fo-Ti Root and Zinc, which help bring your hair back to its optimal state. This product is best used in conjunction with the entire Regenepure line.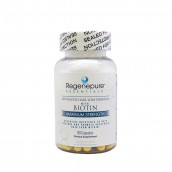 Regenepure Essentials Hair Loss Supplement
Amazon USA | Amazon Canada
2. Hairomega 3-in-1 DHT Blocker – Suitable for men and women with androgenic alopecia, Hairomega 3-in-1 DHT Blocker addresses hair loss in three ways. Saw palmetto helps to interrupt the production of dihydrotestosterone while a blend of essential nutrients provide the body with the raw materials needed to produce new hair cells. In addition, the formula includes gingko biloba and red clover, which stimulate circulation to oxygenate the hair follicles and encourage growth.
3. Maximum Strength Apple Polyphenols 125 mg 60 Caps by Swanson Ultra – Swanson Ultra's apple polyphenol supplement allows you to benefit from the protective chemicals found in apple extract. The supplement provides 125 milligrams of all-natural polyphenols per capsule and uses the active compounds that have been most widely tested.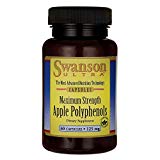 Maximum Strength Apple Polyphenols 125 mg
4. Men Advanced Thinning Hair & Hair Loss Supplement – This supplement is developed exclusive for men with androgenic alopecia and includes a proprietary complex of herbs and essential hair loss nutrients. Biotin and saw palmetto are both included in the formula as well as ingredients that are believed to interfere with the production of cortsiol. There is some evidence to suggest that the presence of this stress hormone can worsen hair loss.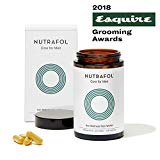 Men Advanced Thinning Hair & Hair Loss Supplement
5. Natrol Biotin 10,000 mcg Maximum Strength Tablets – If you're looking to increase your daily intake of biotin to address hair loss, this formula from Natrol is the ideal choice. The 10,000 microgram strength is the maximum amount recommended by doctors for the highest level of effectiveness possible. All Natrol products are made in the USA in accordance with high quality standards to ensure purity and safety.
Biotin (10,000mcg) Maximum Strength
6. Nature's Way Saw Palmetto Berries – This supplement from Nature's Way is the ideal choice for those who wish to use a standalone saw palmetto supplement to address hair loss. Each single capsule serving contains 585 milligrams of saw palmetto. Nature's Way only uses pure, natural herbs in their formula, and the brand adheres to all of the FDA's Good Manufacturing Practices.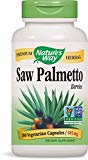 Nature's Way Saw Palmetto Berries
Can diet promote or affect hair growth?
In order to produce healthy hair cells, your body requires an assortment of key nutrients, including biotin, zinc, selenium and iron. Ensuring that you get enough of these essential vitamins and minerals is important to supporting hair growth. There is not enough evidence to know for sure whether increasing one's dietary levels of these nutrients beyond the daily requirements can be beneficial in the fight against hair loss. Still, many doctors recommend that those experiencing hair loss eat a diet rich in lean protein and essential fatty acids to ensure healthy hair growth.
The future of preventing hair loss
More and more, conventional medicine is looking toward natural interventions to improve the outcome of treatment. The future of hair loss prevention is headed in much the same direction as other types of medical interventions. Scientists are still uncovering the connection between a healthy diet, herbal remedies, natural chemicals and healthy hair growth. As more is discovered, doctors are likely to begin recommending multidimensional treatment plans that combine commonly used medicines like minoxidil and finasteride with hair loss shampoos, supplements and dietary interventions.