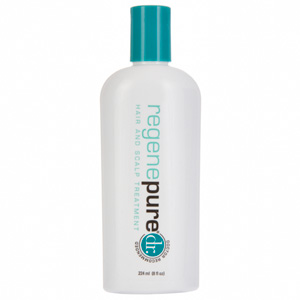 Available as a topical treatment by prescription, ketoconazole is currently used to treat fungal infections. It curbs the production of testosterone and other androgens by the adrenal gland and reproductive organs (in women, the ovaries).
These anti-androgenic effects can be used to help treat hair loss. A 1% version is now available over-the-counter in shampoos such as RegenePure, but it may not be as effective as the 2% prescription strength. There are no significant side effects.
RegenePure DR is doctor recommended and free of sulfates & parabens. It also contains other beneficial elements including Saw Palmetto extract, Vitamin B6 and Zinc Oxide. Niacin, Caffeine and Linolenic Acid are also included to stimulate the scalp, while Jojoba oil keeps the skin supple and rejuvenated.