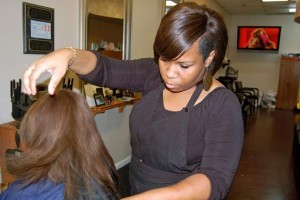 North Charleston resident Shermica Fabers became a licensed cosmetologist in 1997. And about five years later, the very thing she devoted her life to — hair — would take her on a journey from devastation to hope for other women.
Fabers began to have hair loss about 10 years ago. She spent the next few years canvassing the Lowcountry for a dermatologist who could diagnose her problem. After seeing 10 to 12 dermatologists and receiving several misdiagnoses and treatments that made her problem worse, she began to do her own research.
"I went to nine different classes on skin diseases. Doing my research — that's how I found out I had alopecia," she said.
According to the National Alopecia Areata Foundation, it is a common autoimmune skin disease that causes hair loss. There are different types of the skin condition. Alopecia totalis is total hair loss on the scalp, and alopecia universalis is total hair loss all over the body.
Fabers said that some women may not know that they have alopecia. She said they try to treat their hair loss with products that just make it worse.
After reeling from the initial shock that she had alopecia, she poured herself into learning more about the skin condition and ways to treat it. She recommends using special shampoos and finding a stylist who knows how to work with the condition and make hairstyles look natural. She said it is important for women to continue to go to the salon."It's hard because they don't know what's going on with their scalp," she said.
"Make your head feel like you have hair," she advised.
In an effort to regain some normalcy, Fabers looked into wigs, but she could not find anything that suited her. They either did not fit right or looked too synthetic. So she began to make her own custom, high-quality wigs and now has clients from the Hollings Cancer Center to New York and Chicago. The wigs she makes can be cut, styled, curled and colored.
"Hair is a part of being a woman. It makes us beautiful. And when we don't have that, do we feel complete? No we don't. We don't feel attractive," Fabers said.
In June, Fabers started the nonprofit organization Hair 4 U to raise money with a program called Crowning Glory to provide custom wigs for women who suffer with hair loss from chemotherapy treatments or skin disease.
Fabers said that many of the women cannot afford the custom wigs, which range from $200 to $1,000, because they already are overwhelmed with medical bills.
Fabers said that people who do not suffer from hair loss do not understand how devastating and even debilitating it can be. She said that som
e women are afraid to be seen by friends and family because of it. But she wants to change that.
"I hope to bring back a little piece of them that they lost. … That's what moves me and makes my heart melt. I want the world to know that they are not alone," she said.
One of Fabers' clients, who prefers to go by her first name, Nikki, is a Summerville resident who has alopecia.
One of the things Nikki said is important to women with hair loss is privacy."You get angry. It makes you envious of other women. It makes you question, 'Why me?' Just to maintain a normal and natural looking hairstyle is a task. … You go through so many emotions. You don't realize how much you miss your hair until it's not there," Nikki said about finding out she had alopecia.
"At the end of the day, I'm not embarrassed, but it's a private matter. I don't open up about it," Nikki said.
And since Fabers knows exactly what she is going through, she goes the extra mile to provide just that by scheduling her after normal business hours to style her remaining hair.
"When you have alopecia, you're really sensitive about who can do your hair. She takes me on a day when there isn't anyone in the shop. She made me comfortable about being able to be myself in front of her. She makes sure I'm covered so no one can see my nakedness," Nikki said.
Fabers said that in the future she hopes to expand her nonprofit with her own salon so she can ensure privacy for her clients. She also would like mentors who have suffered with hair loss to motivate women who are new to it.
"I don't want them to stop having fun because of hair loss. I want them to know that they don't have to shy away from the world because of it," Fabers said.