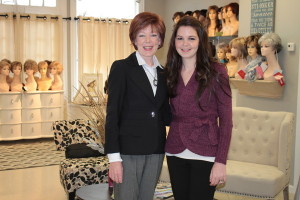 Denise Webster spent years hiding because of hair loss. Then came a life-changing experience, which motivated her and her daughter to open TrichWig Co., a Fredericksburg boutique dedicated to helping others.
"My mom has suffered from Trichotillomania, a hair pulling disorder, for over 40 years," Heather Lease, Denise's daughter, said.  "She had tried every resource under the sun to no avail, until one day she got the courage to try a wig."
The experience changed her life.  "It's helping me to heal," Denise said.
The mother-daughter team opened TrichWig Co. at 1008 Sophia St. "Women should be able to feel good about themselves," Denise said.  "Heather and I set out to create a place in our community for others to have this same experience," she said.
The boutique specializes in providing hair solutions for sufferer's of hair loss, and carries a variety of demographic specific prodcuts.  These include:
Wigs and Hair Pieces
Lindi Skin Care and My Girls Cream — both specifically formulated to help with the long-term effects of chemotherapy and radiation.
Wallaroo Hats, which are UPF rated at 50 and over.
Abonita Scarves, headwear created by a cancer survivor.
Cancer Awareness Jewelry.
Turbans and Headwraps.
A variety of jewelry and accessories for all demographics.
"These are not our mother's wigs," Denise said. Wigs today can be parted, styled, colored, cut and trimmed to fit.  "When you work with them, they bounce right back," she said.  Even celebrities are using wigs and extensions as beauty accessories, she said.
"We want to bring awareness to our community not only about the resources our store has to offer, but also about hair loss disorders such as Trichotillomania, Alopecia Areata and thinning," Heather said. She said these disorders affect men, women and children.
"We saw a need for this in the Fredericksburg area, and we are committed to giving back to our community," Denise said.
The TrichWig duo is already reaching out.  They are participating in Look Good, Feel Better events and the local Women's Lifestyle Expo.
Look Good, Feel Better is scheduled 6 – 8 p.m. June 17, Sept. 9 and Dec. 9 at the Spotsylvania Regional Medical Center.  "This is a free, hands-on, group workshop dedicated to helping female cancer patients cope with and combat the appearance-related side of effects of chemotherapy and radiation treatment," Heather said.  "Attendees will learn skin care and make-up application, and we will give them a wig demonstration," she said.
The free Women's Lifestyle Expo is all day May 18 at Spotsylvania Town Center. "There will be lots of vendors from the community," Heather said.  "In addition to our own booth, we will are sponsoring a raffle and presenting a wig fashion show in the entertainment area."