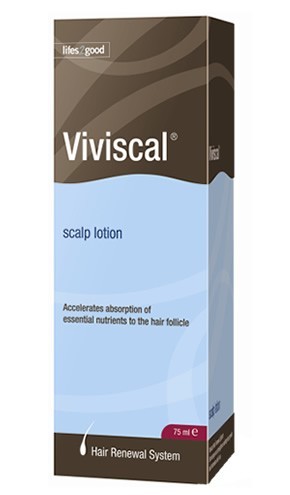 In conjunction with Hair Loss Awareness Month, Viviscal has released new research that shows that hair loss can strongly affect a woman's overall confidence and her sex life. According to the recent survey, 96 percent of women suffering from hair loss feel that their hair is connected to their sense of beauty. In addition, 55 percent of women who participated in the survey feel they are negatively judged as a result of their thinning hair.
Study findings indicate that hair loss has other effects on a woman's life, as well. For example, 39 percent agreed or somewhat agreed that their hair loss negatively affects their sex life and 65 percent of women indicated that noticeable hair loss inhibits them from participating in normal activities, including swimming, going to the hairdresser, or having their spouse or significant other caress or touch their hair. A startling 79 percent of women stated that hair loss makes them less happy than they otherwise could be.
"Our hair defines us and it's understandable that the research findings would show a correlation between a full head of hair and a sense of confidence in the bedroom," said Dr. Laura Berman, LCSW, PhD, the star of In The Bedroom with Dr. Laura Berman on OWN and director of drlauraberman.com. "Women are bombarded with media images of lustrous long locks that are supposedly the key to our beauty and sexiness. As a country, we spend billions of dollars on products and services, coloring, cutting and styling our hair. How can it not have a great impact on our disposition and sense of confidence?"
It's not only those already experiencing hair loss, however, that worry about a thinning crown. According to Viviscal's research, 58 percent of women who do not experience hair loss, still worry about it.
To meet the concerns of women whose tresses and confidence are in need of restoration, Viviscal offers Viviscal Extra Strength hair growth supplements. Viviscal is scientifically formulated with the exclusive Amino MarC(TM) Marine Complex to give thinning hair essential nutrients that are necessary to stop thinning hair and encourage the re-growth of existing hair. Experts recommend taking the supplements in conjunction with a healthy diet and exercise to achieve optimal results.
Trial research of 15 women ages 21-75 administered by Glynis Ablon, M.D., F.A.A.D., director of the Ablon Skin Institute in Manhattan Beach, CA, found that subjects treated with Viviscal for 180 days reported 125% increase in active growth hairs, representing a 100% success rate of the active participants over the placebo. At the conclusion of the study, subjects taking Viviscal also reported significant improvements in self-assessed overall hair volume, scalp coverage and thickness of hair body as well as hair shine, skin moisture retention and skin smoothness. "The study included a set of identical twins, one on placebo and the other on Viviscal and what was most striking is that the twin on Viviscal went from 230 hairs in the designated 4cm square area to 510 hairs, whereas the other twin experienced only the normal rate of hair growth," said Dr. Glynis Ablon
"Viviscal is clinically proven and scientifically developed to restore hair health," continued Dr. Ablon. "The supplement is a 100% drug-free, made with unique ingredients which promote thicker, longer, and faster growing hair within women of all hair types."
For more information on the professional line, visit Viviscal's Amazon's listing .
For maximum results, supplements should be taken twice daily – once in the morning and again in the evening. Visit viviscal.com for more information.