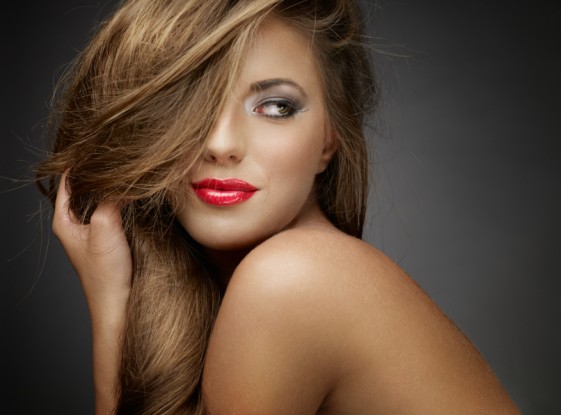 A lot of the hair damage is caused by a poor hair care regimen and unhealthy styling habits. There are certain styling methods which can be detrimental to a healthy hair care routine. Everything from too much heat to tight hair ties can cause extreme damage to the hair. Damages may include thinning, split ends, breakage, rough strands, and balding. Here are a list of tips you can use to prevent these damages and start on the journey to healthier hair.
Use heat protector. Heat products can cause hair to break or become weak overtime. Whenever you use heat to style your hair (for example: a blow dryer, flat iron, or curling iron), apply a heat protector spray or serum onto damp hair prior to styling for the most effective protection. Some ingredients to look for when searching for a heat protectant are olive oil, coconut oil and sunflower oil.
Rinse hair with cold water. After you fully rinse out your shampoo and conditioner, do a final rinse with cold water to close your scalp's pores. This not only clears out the pores but allows them to be sealed from harmful dirt, oils, or chemicals that would otherwise cause dangerous buildup.
 Be gentle with wet hair. When hair is wet, it is at its most vulnerable point so mishandling it can cause severe breakage. Therefore, detangling should be done with precaution. If your hair is tangle prone, comb it through in smaller sections to prevent ripping and breaking of the strands. There will probably be some hair strands in your comb or brush. It is normal for dead hair to shed during this process as long as it is not an excess amount.
Loosen your hair ties. Everyone loves that slick pulled back ponytail look. However, pulling your hair back into a tight ponytail can frequently lead to balding on the edges of your head especially near the temples. This condition is called traction alopecia. The follicles become weak from the strain and in return disables its ability to grow. It best to refrain from tying your hair too tight and after a long day make sure to untie it to relax the strain on your scalp. Be sure not to sleep with a tight hair tie in your hair.
Stick to a light holding cream. Hairsprays and gels are an important part of a women's styling routine but can be very harmful to the hair. Stay away from holding products that contain alcohol, which tends to dry out your hair and scalp. Hard holding hairsprays and creams create a stiff, flakey layer on the hair and when combed out can cause hair breakage so it's best to use the lightest hold possible. If you do have to use a stronger hold, be sure to wash hair thoroughly afterwards rather than comb/brush it out.
 Use a sulfate free shampoo & conditioner. Sodium laureth sulfate, SLS, is an agent used in many cleaning and beauty products to create the commonly seen foam. There is no real use for this ingredient, in fact, it actually damages your hair by stripping it of essential nutrients. When looking for shampoos and conditioners, make sure to scan the ingredients to assure that there are no sulfates. Most products that are sulfate free will specifically say so.