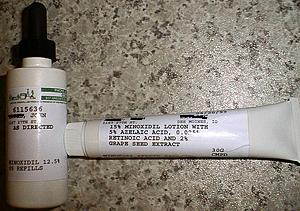 Community Drug pharmacy in Pennsylvania is one of the only two pharmacies providing access to new high strength Minoxidil (the active ingredient in Rogaine) formulas. They are offering both a 12.5% Minoxidil and 15% Minoxidil formula.
Their 12.5% formula is a clear gel with the consistency of a very thick liquid. Their 15% formula is in a cream base that ranges from white to flesh toned in color depending on the ingredients. Community Drug's formulas contain micronized Minoxidil, which means the Minoxidil has been ground down from its normal crystals into very fine particles which can be more easily put into higher strength formulas. Minoxidil's hair regrowth and maintenance has been shown to be dose dependent, meaning the higher the dose of Minoxidil, the better the hair growth.
Unlike the other available high strength formula, this formula can have a variety of other medicines included in the cream. Ingredients can include retinoic acid, phenytoin, grape seed extract, azelaic acid, hydrocortisone, and betamethasone valerate. These ingredients are included in the cost of the base formula. Other medicines can be added for an additional fee, such as chloroquine, cimetidine, and other special request formulations.
Most of the medicines included require a prescription. Unfortunately, hair loss is not considered a primary concern for most doctors, even dermatologists, so most doctors are unaware of these formulas because they are relatively new and it is unlikely that you will find a doctor who will prescribe the treatment. Community Drug has a service to acquire a prescription online, although it is more costly than some others available on the internet.
Pricing:
$32 per 30 grams for the 15% Minoxidil cream
$55 per 60mL for the 12.5% Minoxidil gel
However, we suggest buying a 5% minoxidil spray at Minoxidil Spray.