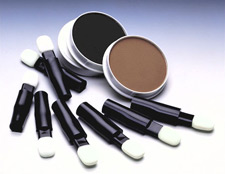 DermMatch is a lot like women's powdered makeup. It even comes with applicators that are very much like women's makeup applicators.  I believe this allows for easier application.  You just wet the applicator and rub it into the round DermMatch pack and then apply it by rubbing the applicator against the scalp.
DermMatch covers the skin, so it provides great coverage in the back and moderately good coverage in the front. Because it creates a 'shadow' on the skin rather than making the actual hair thicker, it is more difficult to get natural coverage in the front.  DermMatch also comes with an unconditional money back guarantee.
Positives: The least messy application thanks to the innovative applicator.
Negatives: Practice is required to get the frontal/temporal coverage to appear completely natural.
Availablility: