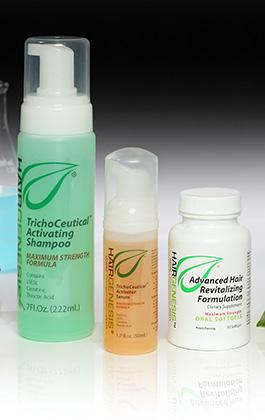 Hair Genesis is a mostly natural formula marketed for combatting hair loss. Hair Genesis is actually several products sold both separately and as a package. The different products include a vitamin and mineral dietary supplement, topical activator serum and shampoo and conditioner. The Hair Genesis dietary supplement pills are taken twice daily and contain:
50mg BetaSitosterol
200mg Saw Palmetto Berry Extract (85/95% liposterolic standardized)
50mg Lecithin
100mg Inositol
25mg Phosphatidyl Choline
15mg Niacin
100mcg Biotin
The topical activator serum's active ingredient is 5% minoxidil in the men's formula and 2% minoxidil in the women's formula. Other ingredients include Alcohol SDA-40, Propylene Glycol, Deionized Water, Polysorbate-80, Isoceteth-20, Hydrolyzed Mucopolysaccharides, Beta-Sitosterol, Biotin, and Citric Acid. Hair Genesis is currently planning a multi-center, clinically controlled study performed by the same independent trial centers that administer FDA trial studies.
Hair Loss Treatment Type:
Minoxidil 2%/5% formula as well as dietary supplement of natural vitamins and minerals to inhibit DHT, the male hormone causing hair loss.
Availability:
Online stores.
Claimed Results:
Hair Genesis claims to halt hair loss and help regrow some hair. It does contain 5% Minoxidil in the men's formula and 2% Minoxidil in the women's, so it should grow some hair in many people for that reason alone.
Observed Results:
Insufficient data.
Clinical Results:
Hair Genesis is currently setting up clinical studies performed by the same centers that perform FDA studies. In two uncontrolled studies performed by Hair Genesis of 25-30 men and women, the treatment showed the following effects:
No drug interactions or side effects were seen
100% of the study participants reported no further hair loss
33% of participants reported noticeable thickening of hair in one study and 84% of participants in the other
7% of participants reported dramatic thickening after continued treatment in one study and 0% of participants in the other
Typical Cost:
$89/month