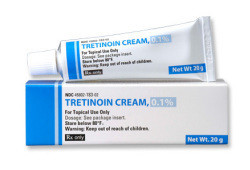 Hair Loss Treatment Type:
Endocrine and metabolic treatment (Proper cell function and growth)
Availability:
Prescription
Notes:
Tretinoin is a prescription drug used for the treatment of several skin conditions. It is one of the most effective drugs in the treatment of acne. Clinical trials showed a side effect of some hair regrowth. Many doctors claim that when used in conjunction with Rogaine/Minoxidil, it increases the effectiveness over minoxidil alone by 10% or more. One of the ways Retin-A works is by ensuring proper functioning of the sebaceous glands. The sebaceous glands produce sebum on the scalp. Sebum contains DHT which is then reabsorbed into the hair follicles to do further damage. Proper moderation of the sebaceous glands and their production of sebum can help control skin scalp DHT levels, preventing androgen related hair loss. Tretinoin also functions to promote cell growth and ensure the proper functioning of other parts of skin cells.
Claimed Results:
None.
Observed Results:
Usually vastly increases the effectiveness of minoxidil. One doctor has compared 2% minoxidil combined with Retin-A to 5% minoxidil.
Clinical Results:
Several clinical trials have verified Retin-A works for hair loss, especially combined with Minoxidil.
Testing:
Well tested.
Safety/Side Effects:
Primary side effect is scalp irritation, which generally goes away with time. If irritation persists, a lower strength of tretinoin below the standard 0.025% may be necessary. Strengths above 0.05% are not recommended.
Gender:
Either.
Typical Cost:
$20-30 for a typical tube. Can be bought pre-combined with minoxidil with a prescription.