Contrary to what you might think, the flap operation is not a new procedure.  It has been practiced over 15 years.  Flap surgery is probably one of the most extensive and expensive hair restoration surgeries available.  Of course, when done right, it offers the best results.  Flap surgery can give you a perfect hair line with dense hair that looks normal in a couple of weeks.  Unlike transplants, the hairs do not fall out after transplantation.
The drawback is that it is very expensive and it is a much more serious surgery than most other hair restoration surgeries.  Complications are rare when performed by an experienced doctor, but almost any doctor can perform them if he chooses to.
[ Diagrams from Beverly Hills Institute of Aesthetic and Reconstructive Surgery ]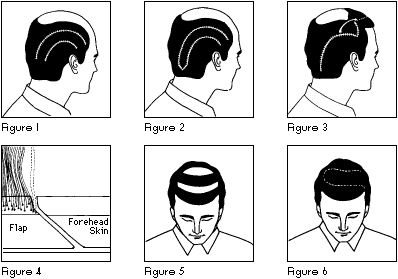 Flap surgery is performed in three steps/procedures.  In the first procedure (see figure 1), the sides of the flaps are separated from the surrounding skin.  The front and rear end of the flap are not separated.  The incisions are then closed and a dressing applied.  A week later, the second procedure is performed (figure 2).  The procedure is identical to the first except the rear of the flap is now separated and closed.  Supposedly these procedures are not visible since nothing has been removed and the hair covers the flaps.  A week later (figure 3), the flap is transferred to the corresponding balding area at the hair line under general anesthesia.   Within a week, the stitches at the front hairline are removed and the stitches within the hair are removed within two weeks.  The patient can return to work with a full head of hair in a week.
For patients who are bald at the crown or who bald later after the operation, a second flap operation can be performed (figure 5).  If this does not cover the remaining bald areas, scalp reductions can be performed between the flaps (figure 6) to eliminate or nearly eliminate all the balding areas.  Thus flap surgery is really the only surgery so far that can give you a full head of hair with the density of a normal head of hair (or close enough to be undetectable).