Introducing Scientifically Formulated Shampoos with Ingredients to Cleanse and Nourish While Potentially Controlling Hair Loss & Enhancing Hair Growth
Salonceuticals®, an international leader in hair treatments, proudly presents the RegenePure® family of professional hair care products. Expertly formulated shampoos that thoroughly cleanse and nourish the scalp and hair with specific, world-class ingredients that can potentially control hair loss and prepare the scalp for optimal hair growth.
(PRWEB) January 19, 2010
New York, NY (PRWEB) January 19, 2010 — Too many shampoos use only one quality ingredient in combination with a host of cheaper ones, particularly harsh cleansers like sodium laureth sulfate, which can have damaging effects on hair and skin.
What if every ingredient on the label was of the highest quality, expertly formulated to give consumers the best shampoo and topical scalp treatment imaginable? Salonceuticals took this challenge and with the assistance of our specialized chemists and team of professionals, they're pleased to introduce the The RegenePure® family of products containing only world-class ingredients that enrich hair while nourishing the scalp and roots.
RegenePure® DR Doctor Recommended is an intense topical formula designed to nourish and repair the scalp. It contains Ketoconazole, which is commonly used to mend scalp inflammation and damage — and has been shown in a variety of clinical studies to disrupt the production of hormones that can cause alopecia (hair loss). Saw palmetto extract has been used for its medicinal properties for centuries, and is currently approved for the treatment of male pattern alocpecia in Europe. RegenePure® DR also contains caffeine, niacin and linolenic acid to stimulate the scalp and follicles, and emu and jojoba seed oils provide deep-tissue nutrients that heal and rejuvenate.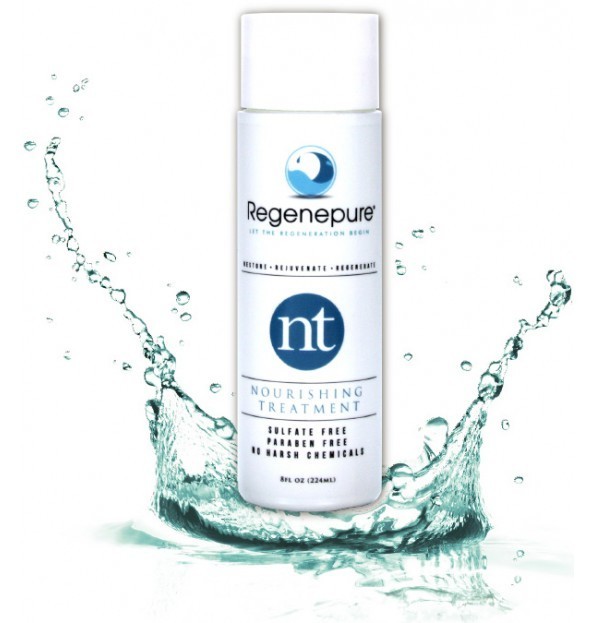 RegenePure® NT Nourishing Treatment is a gentle, moisturizing shampoo that deeply cleanses the hair and rids it of toxins that threaten its health leaving hair feeling fuller after just one application. RegenePure® NT has been formulated with a form of lecithin (derived from egg yolks), which studies have shown to be a powerful hair growth agent. RegenePure® NT also contains saw palmetto extract, emu oil and caffeine, as well as glycerin, a hydroscopic humectant that draws moisture into the hair and scalp. A shampoo without harsh cleansers that can strip the hair, RegenePure® NT is safe to use on a daily basis. It is also paraben and sulfate-free, making it safe for keratin, color or chemically-treated hair.
With the RegenePure® family of products, hair will feel thicker and fuller after only one application and important long-term effects will occur after repeated usage. Let the regeneration begin!™
Salonceuticals is a New York and Miami-based Professional Hair Products Specialist, is comprised of physicians, salon experts, fashion models and medical spa owners working together to formulate the highest quality shampoo and hair care products for the scalp and hair. We've combined our decades of knowledge and expertise, and listened closely to the concerns of consumers, to create innovative products that bring excellent results. You can find Salonceuticals Regenepure at http://www.regenepure.com .