Dr. Oscar Klein is a physician in New York City who has helped treat thousands of patients with his ReMox and ProMox minoxidil-based formulas. We recently talked to Dr. Klein about his different hair loss formulas and what he thinks about the future of hair loss treatments.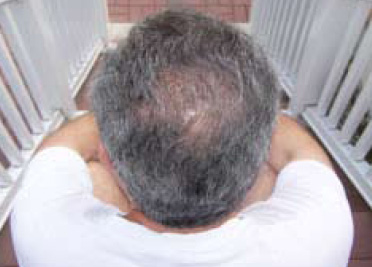 Before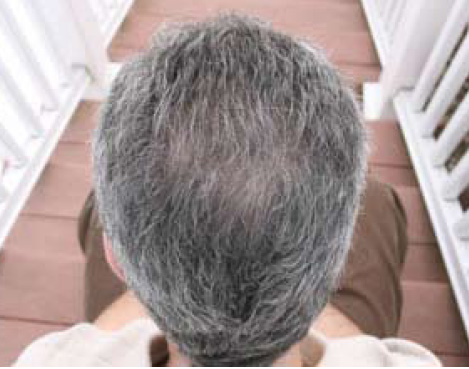 After 3 months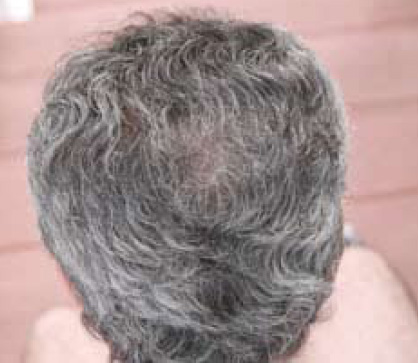 After 6 months
What is the difference between Remox and Promox?
Remox was our first unique hair regrowth medication created in 1998.
In the beginning we only had Remox I (5% minoxidil 0.25% tretinoin) and Remox for Women (3% Minoxidil 0.25% tretinoin). Both are in cosmetic quality spray form. Since the introduction of the above we have developed multiple forms of Remox both in spray and lotion forms. All of our products are developed after extensive research.
Promox is our newest medication based on a triple blind six month study conducted in New York City that showed significant hair regrowth in both temporal and vertex areas in 75% of all the subjects using the Promox Solution. Promox is a combination of Minoxidil 5% tretinoin 0.25% 1.5% Azelaic Acid and 0.25% progesterone and finasteride 0.1%. (see research study)
Describe the process of researching and developing new formulas and ingredients?
Our research is based on patient's needs and findings of other researchers etc. For example, before embarking on our six month triple blind study, we found that many of our patients and hair loss sufferers were attempting to mix liquid minoxidil with crushed finasteride or dutasteride in an attempt to improve hair growth. This was usually performed in a very non scientific manner and produced haphazard and potential harmful results. My goal was to produce a specific medication that would provide excellent hair growth results in the majority of hair loss sufferers.
Describe the reason why a person would use one of the formulas or another?
Our Remox and Promox lines are extensive because individuals require different medication regimens to achieve the real hair regrowth they desire. For example our 12.5% and 15% lotions are very potent and are designed to grow hair in the more difficult areas (i.e. the temporal area where almost nothing else works.) I also designed different strengths of the minoxidil and tretinoin for individual use. Most of our patients are placed on a unique individualized treatment regime after a phone, email, or personal consultation.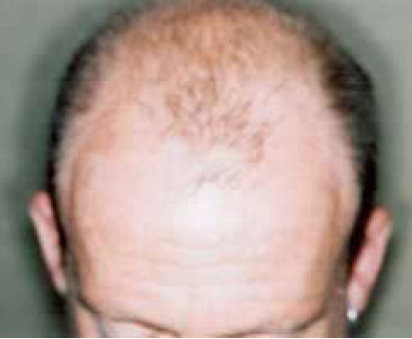 Before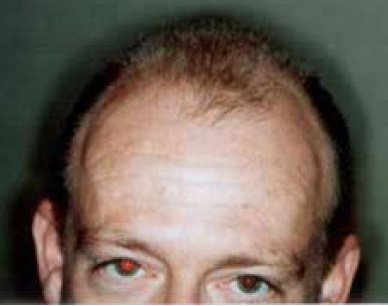 After
What products are used to increase the effectiveness of Minoxidil?
All of our formulas contain minoxidil and tretinoine (also known as Retin A). This compound was proven to increase the absorption of minoxidil 3 or 4 times through the – Stratum Corneum of the scalp.* We have also added additional compounds such as Azelaic aid, progesterone and finasteride which help to block DHT at the follicle level. Tretinoin also increases the absorption of these compounds to the follicle level. Therefore, if you get 3 to 4 times the absorption of the active ingredients to the follicle it is reasonable to expect much better results than with minoxidil alone.
What do you consider your most effective product?
Presently our most effective new product is Promox. Our patients have reported amazing results in a very short time even those that have been using Remox especially in the temple areas. Unfortunately, this product can only be used by men and post menopausal women due to the possibility of serious fetal malformations in child bearing women.
Why do you believe your product offers better results than other minoxidil products?
Remox and promox products are based on extensive research therefore they produce the real hair regrowth results that individuals with alopecia are seeking. However, more importantly our treatment is not a cookie-cutter solution where all individuals are offered the same treatment. People vary greatly in the type of hair loss they have, age, genetic makeup etc. Therefore, we encourage each and every individual to have a personal evaluation with us so we can design a specific program that will produce real hair growth results in the shortest time possible.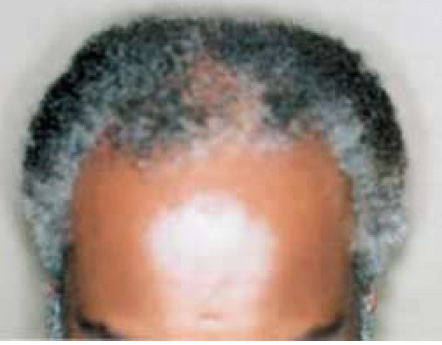 Before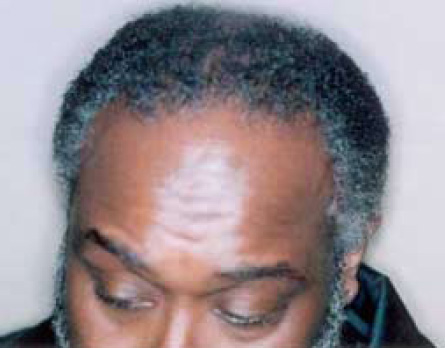 After
What can a person expect starting your treatment as far as results?
There is a widespread misconception in the general public that there are products that will produce (fast hair growth). This is a fallacy. Hair grows 1/3 of an inch a month and nothing will increase that rate. However, our products produce new hair growth in those areas where nothing has grown in years at a steady normal rate. Therefore, within 3 months patients experience new hair growth that is ½ to 1 inch long and grow to full terminal hairs with time.
Do you recommend people that use your formula use oral DHT inhibitors such as Propecia or Avodart?
Propecia and Avodart are the best DHT blockers today. Some of our patients use them very effectively with both our Promox and Remox products, however, it is important that anyone using Propecia or Avodart get a medical clearance from his physician and have a blood test to evaluate liver function. Also, there is a slight incidence (2 to 3 % )of sexual dysfunction with the use of these products especially in higher dosages. However, with our Promox formulas there is a much lower incidence of side effects because the application is topical and most of the medication is absorbed in to the capillary circulation of the scalp.
Are there any other things you recommend someone do to benefit their hair loss, such as diet, other lifestyle changes or nutritional supplements?
As with all things, a balanced diet and a healthy lifestyle is important for proper hair growth and maintenance. Daily exercise helps increase blood flow to all tissues including the capillaries to help nourish the hair follicles. A good multi-vitamin that contains iron, zinc, biotin and B-Complex is important to maintain good hair health and growth. Avoid smoking, as nicotine constricts the tiny capillaries that supply the blood and nutrients to the hair follicle. Patients should eat red meat only once a week because it can cause elevation in DHT levels which are known to cause hairloss.
What do you recommend for woman in treating their hair loss?
Most women who experience hair loss have the same genetic factors as men. However, with women there are hormonal changes that occur which can increase her chances of hair loss. Therefore, a woman experiencing sudden hair loss should see her family physician for a complete evaluation of her health and hormonal levels. As mentioned above ,there is no question that a healthy lifestyle is essential in promoting an environment that will produce healthy hair growth. Also, it is important to avoid harsh chemicals such as relaxers and bleaching agents. These can damage the hair shaft (not the hair follicle) making the hair look thin and dry. Hair styles that include extensions, weaves and braids can damage hair follicles due to the pressure they produce on the hair follicle and thereby causing a problem called traction alopecia (hair loss). In most cases as in men 95% of woman suffer from hair loss have androgenic alopecia. This can be treated with various medications but most successfully with Re-Mox and Pro-Mox solutions.
Are you planning any further studies on your current or new formulations anytime soon?
I am constantly researching for possible new and improved treatments for hair loss. Currently, I have a new study that I am planning to implement in the very near future. On my website www.physicianshairgrowth.com there is a section that discusses new developments and research. Please feel free to check it out.
What are you working on for the future development of your treatments?
There are many exciting new possibilities in using combinations of medications in a topical form that will significantly increase hair growth. These medications are safe, easy to use and inexpensive. I am currently investigating some of these combinations.
What do you see as the future of hair loss treatment in the next 10-20 years?
I am very optimistic about the future of hair loss treatments in the next 10-20 years. Recent advances in hair culturing, hair cloning and mapping the human genome to isolate the exact genetic causes for hair loss will produce significant results in producing hair growth in those people who suffer from genetic hair loss.
Do you think we will see a day in our lifetimes when having completely reversing balding and having a full head of hair is realistic choice for most men?
I believe that in our generation we will be able to reverse balding and every person who wishes to have a full head of natural hair will be able to do so. I think that alopecia will become a distant memory of the past.
* Bazzano et.al American Journal of Dermatology