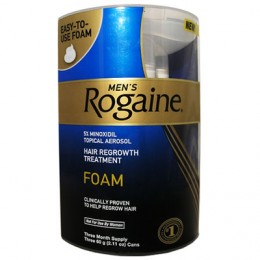 Rogaine Extra Strength is an FDA approved higher concentration of Minoxidil for treating hair loss. It comes in a 5% liquid solution and is available over the counter for men for around $29 per month. Rogaine Extra Strength claims to grow 45% more than the Regular Strength 2% formula.  It also starts growing hair as soon as 2 months in many individuals. The most common side effects are scalp itch and irritation, which are rare.
Specifics:
Treatment Type: Hair Growth Stimulator (Potassium K+ Channel Opener)
Availability: Over the Counter
Country Approval: Approved: United States, New Zealand, Australia, Philippines
Pending: Canada, European Community
Clinical Results: 45% more hair grown than the regular strength 2% formula. Hair grows as soon as 2 months.
Observed Results: Seem to match clinical results. May be improved with simultaneous use of Propecia / Proscar or when premixed by a pharmacist with .025% Retin-A/Tretinoin.
Side Effects: Side effects are rare. Most common is scalp irritation/itching.
Cost: Between $13-45 depending on store location
Where You Can Get It: on Amazon. But we however suggest looking into Regenepure's Minoxidil Spray.