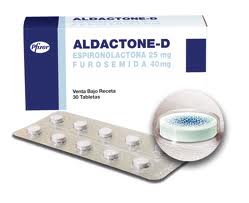 Spironolactone, brand name Aldactone, is in a class of drugs called potassium-sparing diuretics (often called water pills). Spironolactone is typically used to reduce fluid in your body without causing the loss of potassium. It is also used to treat potassium deficiency, high blood pressure (hypertension), swelling (edema), and a hormonal disorder called hyperaldosteronism.
Spironolactone acts as an anti-androgen in two ways. First, it slows down the production of androgens in the adrenal glands and ovaries. Second, it blocks the action of androgens in part by preventing dihydrotestosterone (DHT) from binding to its androgenetic receptor.
Spironolactone is one of the most powerful anti-androgens available. It is also absorbed locally when applied topically, so it is good for hair loss treatment since it is not absorbed throughout your body. Since it is so powerful, it is not used orally for men, due to side effects. It is not widely used since it is available only by prescription.