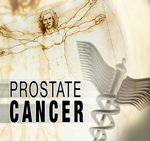 A new massive study of over 8,000 men released last month showed that Avodart taken daily reduced the risk of prostate cancer by over 22% in men. A surprise result came when analyzing side effects showed that the risk of cardiac failure increased slightly (0.3%) in men on Avodart compared to the placebo. The study said the risk was "no significant difference" between the two rates of risk, but did note the higher numbers in the Avodart group (30 of 4,105 men) compared to placebo (16 of 4,126 men).
The April 1, 2010 Associated Press news story, "Study finds possible heart risk with prostate drug", by AP Medical Writer Marilynn Marchione, details the following information:
In the full Avodart results, "the important detail is there's a heart failure signal here that was unanticipated," Kramer said.
Dr. Otis Brawley, who helped run the study before becoming the American Cancer Society's chief medical officer in 2007, said the heart failure risk may be a fluke, but men would need to be watched for it. If it develops, "it's reason to stop the drug," he said.
Spokeswoman Sarah Alspach told the Associated Press that the heart-failure rate published in the New England Journal of Medicine report "is unexpected and inconsistent" with previous testing of the drug.
Abstract:
BACKGROUND: We conducted a study to determine whether dutasteride reduces the risk of incident prostate cancer, as detected on biopsy, among men who are at increased risk for the disease.
METHODS: In this 4-year, multicenter, randomized, double-blind, placebo-controlled, parallel-group study, we compared dutasteride, at a dose of 0.5 mg daily, with placebo. Men were eligible for inclusion in the study if they were 50 to 75 years of age, had a prostate-specific antigen (PSA) level of 2.5 to 10.0 ng per milliliter, and had had one negative prostate biopsy (6 to 12 cores) within 6 months before enrollment. Subjects underwent a 10-core transrectal ultrasound-guided biopsy at 2 and 4 years.
RESULTS: Among 6729 men who underwent a biopsy or prostate surgery, cancer was detected in 659 of the 3305 men in the dutasteride group, as compared with 858 of the 3424 men in the placebo group, representing a relative risk reduction with dutasteride of 22.8% (95% confidence interval, 15.2 to 29.8) over the 4-year study period (P<0.001). Overall, in years 1 through 4, among the 6706 men who underwent a needle biopsy, there were 220 tumors with a Gleason score of 7 to 10 among 3299 men in the dutasteride group and 233 among 3407 men in the placebo group (P=0.81). During years 3 and 4, there were 12 tumors with a Gleason score of 8 to 10 in the dutasteride group, as compared with only 1 in the placebo group (P=0.003). Dutasteride therapy, as compared with placebo, resulted in a reduction in the rate of acute urinary retention (1.6% vs. 6.7%, a 77.3% relative reduction). The incidence of adverse events was similar to that in studies of dutasteride therapy for benign prostatic hyperplasia, except that in our study, as compared with previous studies, the relative incidence of the composite category of cardiac failure was higher in the dutasteride group than in the placebo group (0.7% [30 men] vs. 0.4% [16 men], P=0.03).
CONCLUSIONS: Over the course of the 4-year study period, dutasteride reduced the risk of incident prostate cancer detected on biopsy and improved the outcomes related to benign prostatic hyperplasia. (ClinicalTrials.gov number, NCT00056407.) 2010 Massachusetts Medical Society
Author:
Andriole GL, Bostwick DG, Brawley OW, Gomella LG, Marberger M, Montorsi F, Pettaway CA, Tammela TL, Teloken C, Tindall DJ, Somerville MC, Wilson TH, Fowler IL, Rittmaster RS; REDUCE Study Group.
Source:
N Engl J Med. 2010 Apr 1;362(13):1192-202.
Address:
Division of Urology, Washington University School of Medicine in St. Louis, St. Louis, MO 63110, USA.