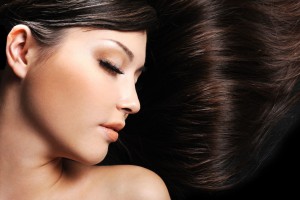 If you have lived in a place with a cold climate, you know that everything from your hair to your skin completely loses moisture and dries up. It's important to stock up on your favorite moisturizer to bring life back to your body, and your hair is no different. The cold, harsh weather can cause hair loss and your hair to become excessively dry, brittle and even break off. Using these five simple tips to maintaining ultimate hair health during the winter will help you keep your scalp and hair in the best condition possible.
Moisturize weekly – Using a homemade hair mask every week is of utmost importance. Just like your skin craves moisture, your scalp does too. Your scalp is more likely to get dry and flaky when the temperatures drop, so "feeding" your hair with the essential nutrients is important. A popular, easy hair mask is a coconut oil mask, where you simply heat up a small amount of coconut oil and let it soak on your head for 30-45 minutes depending on your hair health. After one time, you should see a dramatic difference in the shine, body and life of your hair.
Take Vitamin E- Hair health is also affected by internal issues, like a vitamin deficiency. Incorporating Vitamin E into your daily healthcare regimen can go a long way, giving your hair and scalp the moisture it needs. Putting a bit of Vitamin E oil on the ends of your hair can also help seal split ends and lock in moisture, protecting it from the harsh weather.
Regulate coffee intake – According to a study conducted by German researchers in the Department of Dermatology and Allergology at Freidrich-Schiller University, caffeine has a "stimulating effect in your hair follicles and prevents hair loss." The more coffee you drink, the more volume your hair will have in the long run. However, be careful about drinking too much coffee, as this can have dehydrating effects on the scalp.
Create a washing schedule – Regulating how many times you wash your hair has a positive impact on your hair's health, especially when the weather is already drying it out. Depending on your hair type, those with curly hair should naturally wash their hair less (about 2-3 times a week), but those with straight hair should look to follow a similar regimen. Stocking up on conditioning and lessening your hair washing will add volume, shine, and health back to your locks.
Dry your hair before leaving the house – Although it's much easier to wake up later and dash out of the house after your shower, it's important to make sure your hair is completely dry before leaving the house. Leaving your hair damp and entering the cold will turn your hair stiff and keep your hair wet for a prolonged period of time. This is not only uncomfortable, but also it is detrimental for your scalp and hair health. Squeezing your hair in between a microfiber towel will absorb excess water without splitting your ends and using a diffuser aids in faster drying and less frizz.