FOR IMMEDIATE RELEASE
Hallandale Beach, FL (July 24, 2015) – Regenepure Launches Effective Biotin Supplement for Hair Loss Say goodbye to thinning, lifeless hair for good Regenepure by Salonceuticals, Inc., one of the most well respected hair loss solution brands, has just launched their highly anticipated Biotin Supplement. This supplement, called Regenepure Essentials, was designed specifically for hair loss and has been scientifically formulated with the highest quality ingredients to help thinning hair while making it stronger and healthier in the process. Biotin plays a crucial role in the body. In addition to strengthening and growing hair, it supports the health of the digestive system, nerves, metabolism, nails and cells.
Salonceuticals has paired Biotin with ingredients such as Vitamin B, Zinc and Saw Palmetto Extract to help you achieve the desired results from the inside out. Together, L-valine, L-leucine and L-isoleucine are called branch chain amino acids. Commonly referred to as BCAAs, branch chain amino acids are the fuel for hair growth. BCAA's form the potassium ion channels that make up the hair follicles in men and women, and are essential for maintaining the highest quality functionality of those follicles. Research supports that BCAAs help to protect the hair from the harmful effects of over processing, a common problem among women. Branch chain amino acids also increase the synthesis of proteins that elongate and reinforce healthy hair. The hair requires a certain amount of amino acids to create strong hair that is long lasting.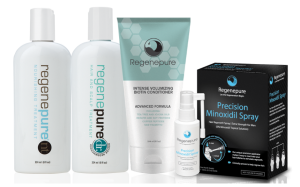 Apples are rich in polyphenols, powerful components within the structure of the fruit that work against destructive processes in the body. More specifically, Apple Extract Polyphenols are growth-promoting when used on hair's epithelial cells. Apple polyphenols have been used in countless clinical studies where they have been shown to increase both total hair count as well as hair diameter. In addition to the beneficial ingredients highlighted above, Horsetail Extract plays an important role in the anti-inflammatory properties of this supplement. Additionally, it helps to grow hair by enhancing the blood circulation in the scalp, supporting the growth of the hair follicle.
Together these nutrients within the supplement work together to bring hair to optimal health with continued use. Regenepure's supplement also has a unique selection of natural herbs that specifically target hair loss while helping to reinforce existing hair. For example, Fo-Ti Root Powder is an herb that is commonly used in traditional Chinese medicine to treat high cholesterol and insomnia. However, what is not broadly known about Fo-Ti Root Powder is that it is also used to effectively fight against hair loss. The incorporation of such potent, effective ingredients is what makes the Regenepure brand superior to other brands.
Scott Hoffman, President of Salonceuticals, noted that the Regenepure brand already has a complete line of effective hair maintenance and regrowth products.
"The one missing piece of this system has been an effective internal supplement and we are proud to welcome the Regenepure Essentials supplement to our line."
Through the careful evaluation of the ingredients Salonceuticals has included in this Biotin supplement, the brand is confident that when used in conjunction with Regenepure's well-respected hair loss products, any hair loss regime will be amplified both internally and externally.
About Salonceuticals
Salonceuticals, Inc. is a Miami-based company that is dedicated to scientifically formulating and offering the most effective hair loss products. We believe that the quality of our product begins with its ingredients. This is why every formulation at Salonceuticals is comprised of carefully researched ingredients that are combined to create world-class products with unmatched results. As a brand, we also strive to educate men and women about the underlying causes of hair loss, while providing seamless solutions to all of their hair care needs through our various educational platforms. We have combined our decades of knowledge and expertise and listened closely to the concerns of our customers to create one of a kind products that focus on results.