Chances are you've scrolled through your social media and have seen an ad promoting some form of hair loss subscription. It's like the final frontier, and these brands are waging a war to see who comes out on top. While it is great to have options, the constant competition can certainly leave you feeling overwhelmed and confused as to which hair loss subscription is best for your specific hair needs and budget. Hair loss solutions are nothing new, so it begs the question, what's so special about these subscription options, are they really needed and do they actually work? Without any further ado, let's dive in.
It's been reported by the American Hair Loss Association that 85% of men will have experienced some level of hair thinning by the age of 50, read more about Hair Loss in Men here. Those numbers are enough to see that a surprising amount of men in America struggle with hair loss. It also tells us that yes, these subscriptions do fulfill a very personal and large scale need in the hair care industry. As a result of the demand for hair loss solutions that work, brands like Hims, Keeps, Regrowth Club and Shapiro MD are clawing for their share of this growing market. We want you to be able to decipher through the marketing talk and get straight to the bottom of what these brands actually offer. Here's an overview of what you can expect in regards to price, offering and overall value from these 4 companies.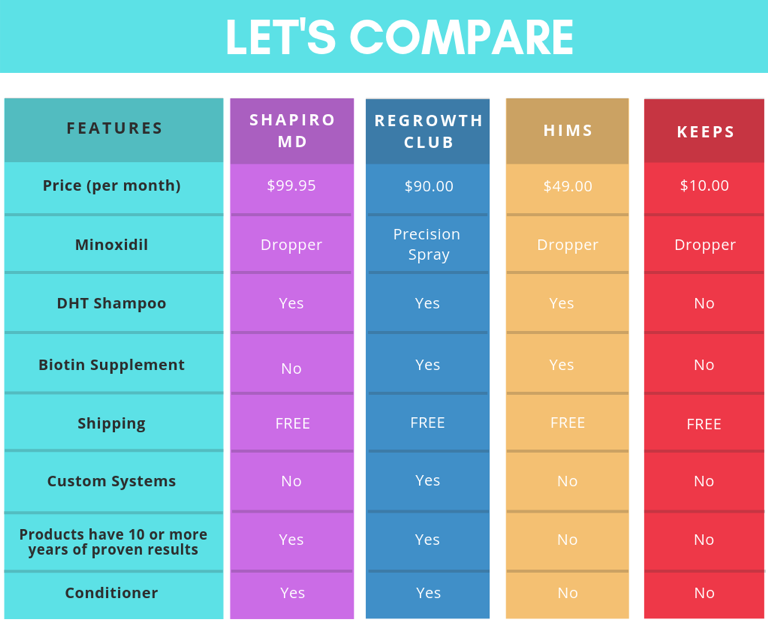 THE PRICE:
If you ask most people what the deciding factor is for them to pull the trigger and purchase one of these subscriptions, they will most likely say its the price. Hims and Keeps come in at the least expensive when it comes to monthly pricing. Hims is $49.00 per month and Keeps is $10.00 per month. Regrowth Club, at their highest offering comes in at $90.00 a month but also offers systems starting at $40 per month. Shapiro MD on the other hand comes in at $99.95. While those prices may differ widely, don't make any decisions just yet. We still need to talk about what these prices cover.
THE OFFER:
For $49.00 a month, Hims provides their customers with a 2oz dropper bottle of Minoxidil – a topical treatment for crown balding. They also provide 30 1mg pills of Finasteride, which is only available with a prescription. (Finasteride is more commonly sold under the name Propecia and was originally created to treat enlarged prostates.) The kit also has an 8oz bottle of DHT blocking shampoo, which helps remove the hormone DHT from the scalp. The DHT build up on the scalp blocks the hair follicle and prevents the hair from growing naturally. Lastly, they provide a 60 pack of Biotin Vitamins in gummy form.
For $10.00 a month, Keeps provides their users with a 1mg bottle of Finasteride and 5% topical solution of Minoxidil, also with a dropper applicator. While this offer is the most inexpensive, it does not provide a full range of products as the other brands do.
At $99.95 Shapiro MD provides a 9.5 oz bottle of DHT blocking Shampoo, a 9.5 oz of conditioner, a bottle of 5% Minoxidil in dropper form and a bottle of a leave in foam.
Lastly, let's take a look at Regrowth Club. For $90.00 a month, the Regrowth Club provides a 4oz bottle of DHT blocking shampoo to cleanse the scalp of DHT, a 4oz bottle of Nourishing Treatment, a 4oz bottle of Biotin Conditioner to hydrate and restore the hair, a 5% Minoxidil Spray with a precision swivel head applicator and a 30 day supply of Biotin Supplements.
From this breakdown, we are forced to confront a few things. Firstly, when treating any hair loss issue, it is important to have a full system that tackles all aspects of hair health. We say this because most DHT blocking products and Minoxidil products can have adverse reactions such as drying the hair. Including a moisturizing and hydrating conditioner to your hair regrowth routine is extremely beneficial to combat these reactions.
It is also important to note that hair loss is a hormonal issue and so treatment from the inside out is crucial. We definitely recommend including a vitamin rich supplement to your routine.
APPLICATION
All of the kits have similar applications for their products, except for the Minoxidil. Shapiro MD, Hims and Keeps all provide a dropper to apply the topical Minoxidil, while Regrowth Club has a swivel head applicator. We will admit, using a dropper to apply Minoxidil is quite common but is it the best way to apply the product? Many times when using the dropper, the Minoxidil ends up dripping down your hair or face. Even when using a foam, like Rogaine provides, you end of wasting the product as it does not apply directly to the affected areas of the scalp. The swivel head applicator provided by Regrowth Club is definitely one of the more creative and innovative ways we have seen to apply Minoxidil. The swivel head spins around 360 degrees which is great for application in hard to reach places. The precision head also makes it easy to target the product directly on the scalp and not all over the hair. That said, the dropper works fine and has worked fine for many years, we just like the extra detail and precision Regrowth club provides with this applicator.
CUSTOMIZATION
A big thing in the subscription model world right now is customization. Consumers are becoming more and more adept to the idea of tailored or personalized products. We think this trend is super important when it comes to treating hair loss. After all, there are many issues a person can struggle with from a receding hairline to thinning hair to crown balding. A one size fits all treatment almost seems like an insult to the consumer's needs and intelligence, right? After reviewing all of the brand's offerings, we were surprised to find out that the only company with custom systems is Regrowth Club, however Keeps and Hims do have a paid option to consult with a licensed doctor. That does seem like a form of personalization so at least there is that option.
SHIPPING
There does appear to be one category that all of these companies got right. Free shipping! Thank goodness for that, because shipping prices can sometimes be the difference between pressing confirm order and pressing your card back into your wallet.
PROVEN RESULTS
It can be quite difficult to gauge the true efficacy of hair loss subscription products. Every day we are bombarded by hundreds of videos from "real users" who clearly have never struggled with hair loss a day in their life. It's daunting, so we decided to look elsewhere for the facts. Instead of looking at how many followers and ads these brands have, we decided to look into their history.
Out of the four brands, Shapiro MD and Regrowth Club are the only two companies with over 10 years of proven results. Both of these brands also have known reputations with leading hair restoration doctors and clinics. These are the type of factors that really matter. Are they trusted by professionals? Would top class doctors recommend these products to their clients? Based on our research Shapiro MD and Regrowth Club check those boxes.
THE VERDICT
So are hair loss subscriptions necessary? We would have to say yes on this one. When treating hair loss, one of the key factors in whether or not you see success is consistent usage. Treating hair loss with a subscription plan is like having a personal trainer. You wouldn't expect to hire your PT for one month and see complete results, right? Using a hair loss subscription is no different. You need a system that will work for you month after month, to not only grow your hair back but to also improve your overall hair health. The subscription model supports this notion and allows you to have continued treatment month after month at discounted prices.
How can we justify the price for the value received? Well, for us it's simple. These companies are not inventing a new concept, they are taking proven ingredients like Minoxidil and DHT blockers like Ketoconazole, repackaging them and providing users with a convenient monthly option to purchase. For us, the choice lies in the details. We personally recommend a full scale system that tackles every aspect of hair health from removing DHT from the scalp, using a Minoxidil to target balding areas, using a nutrient rich conditioner to replenish and hydrate the hair and scalp and lastly, working from the inside out with a Biotin based supplement. We also recommend choosing a company that offers the right package for you. The ability to customize your hair loss treatment will go a long way when it comes to price and long term use. You will clearly be going through various stages during your hair regrowth journey, so being able to choose a system that works for you at the exact stage you need it is a great benefit.
The last thing to consider is this. Who would you trust more, a instagram influencer with 100,000 followers or a leading hair transplant doctors with 100,000 successful clients? If you're like us, you chose to trust the experts. Going with a brand that has years of proven results and a good reputation with world class doctors and clinics would be the way to go. You can rest much easier knowing a doctor would recommend the products to their own clients.
Personal Anecdote: Based on my own experience using hair loss subscriptions I find it best not to choose based on the price being the lowest. I short changed myself every time I did it that way. When Keeps originally came out I signed up with them based on how low the price was, but due to the fact that my hair needed more than 2 products to maintain the overall health, I ended up having to buy shampoo and conditioner from other companies anyway.
I've also been using Minoxidil for the better part of 10 years and I am not the biggest advocate of using a dropper, so the Regrowth Club precision head definitely has the other applicators beat in my opinion. I'll probably try their system next as it has all the products I need to maintain my hair with the added benefit of the targeted Minoxidil Spray.
FINAL THOUGHTS
KEEPS:
If you are looking for a budget friendly option, they may be your best bet. They are pretty new on the scene but that doesn't mean it's not worth a shot.
HIMS:
If you are all about beautiful branding and need social proof, you can try them out. Hims makes it simple to ease into using a hair loss subscription and I've heard their customer service is not too bad.
If you want a complete hair health solution or want a completely custom treatment, I would recommend starting here. Regrowth Club offers the Regenepure line of products, which have been known to be used by world class hair restoration physicians and clinics. The ingredients in their products have been scientifically tested and have years of proven results.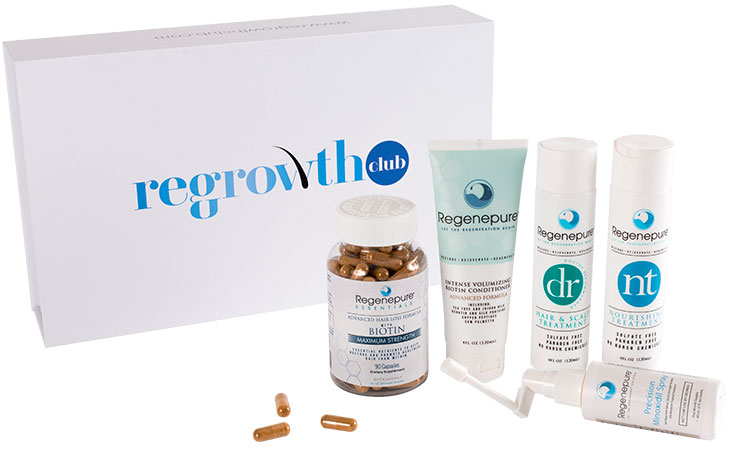 Exclusive Offer - Get One Month Free
Initially $80.00/Three Month
Then $120/Three Monthly
Subscribe Today
Shapiro MD:
If you have a little more cash to spare and want products that are simple but effective. I'd say Shapiro MD would work best for you. Their products are also recommended by doctors and I've been told their customer service is good.
If you have read all the way through and are still hesitant to get started, know this. There is no wrong choice. Sometimes you will have to try one or two brands before you find the right subscription plan for you. The only harm is doing nothing at all.