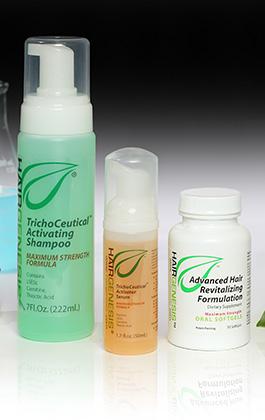 New Generation V HairGenesis® Revitalizing Cleansing and Thickening Shampoo is a very special hair care product designed to prime your hair for maximum growth potential. Containing the same patent-pending active composition found in the Trichoceutical® Activator Serum and Oral Softgels, new Maximum Strength HairGenesis® Hair Thickening Shampoo is the one to use for those wishing to achieve maximum results.
Proprietary amphiphilic shampoo formula protected by Patent Pending.
Unique coacervate cationic polymer properties enhance residual deposition of active constituents.
Active composition designed to down-regulate cellular membrane lipid-peroxidation, a pathological co-factor linked to apoptosis in epithelial hair follicle keratinocytes.
Key aspects of formula also shown to protect mtDNA (mitochondrial DNA) a critically important organelle in the actively proliferating hair follicle.
Hair Genesis Conditioner:
An added bonus to the HairGenesis® system is the brand new Maximum Strength HairGenesis® Revitalizing Conditioner. This wonderful product, designed to be used two or three times weekly has been specially formulated to make your hair look and feel its healthiest and most vibrant.
Hair that has been affected by pattern hair loss is often weaker, duller and finer than healthy hair. HairGenesis® Hair Revitalizing Conditioner is a finishing product that has been specifically designed to protect and strengthen your hair so that it always looks its best. To achieve best results, always use HairGenesis® Conditioner in combination with the entire HairGenesis® Treatment Regimen.
Patent Pending HairGenesis® Revitalizing Conditioner formula designed to: protect weakened hair by preventing ROS damage, cytotoxicity, genotoxicity and apoptotic cell death in susceptible follicles and to facilitate intramitochondrial transport of fatty acids for beta oxidation an important function in hair follicle energy metabolism — a system which is one of the most robustly proliferative and energy-intensive structures in the human body.
Availability:

Hair Genesis Revitalizing Shampoo
Ingredients:
Hair Genesis Shampoo:
Deionized Water, Sodium Laureth Sulfate, Cocamidopropyl Betaine, Cocamide DEA, Hydrolized Wheat Protein, Glycol Stearate, Hydrolized Mucopolysaccharides, Saw Palmetto Berry Extract, Biotin, Beta-Sitosterol, Sodium Chloride, Citric Acid, Phenoxyethanol, Fragrance, Methylparaben, Propylparaben.
Hair Genesis Conditioner:
Deionized Water, Cetyl Alcohol, Stearyl Alcohol, Chamomile Extract, Cetrimonium Bromide, Nonoxynol-10, Propylene Glycol (and) Water (and) Hops Extract (and) Horsetail Extract (and) Bioflavinoids Extracts (and) Pine Cone Extract (and) Rosemary Extract, Quaternium-15, Hydrolized Keratin, Wheat Germ Oil, Lecithin, Citric Acid, Fragrance, Phenoxyethanol, Methylparaben, Propylparaben, FD & C Yellow #5, FD & C Blue #1.