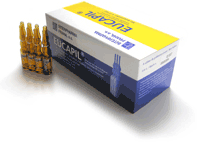 Male pattern hair loss is associated with dihydrotesterone or DHT binding to the Androgen (male hormone) Receptor in hair follicles. Current treatments include preventing the creation of DHT (Propecia) and preventing DHT from binding to the receptor (Spironolactone, RU58841). Fluridil may represent a new method of treatment. According to its maker, Fluridil blocks activity in the Androgen Receptor itself. Fluridil has been approved in the Czech Republic and is being used there already for cosmetic use and marketing approval is pending in several other countries.
Hair Loss Treatment Type:
Androgen Receptor Suppression
Availability:
Available in Czech Republic, other approvals pending
Observed Results:
Not yet available to public.
Clinical Results:
No clinical data yet published.
Safety/Side Effects:
Not Yet Available
Typical Cost:
Not Yet Available