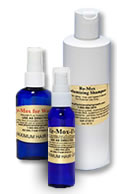 ProMox and ReMox are a line of custom Minoxidil formulations created by Dr. Oscar Klein of Physician's Hair Growth. The Remox line of Minoxidil products offers 5-15% Minoxidil combined with Tretinoin and other ingredients such as hydrocortisone, progesterone, and azeleic acid. The new ProMox line offers a combination of 5% Minoxidil, Tretinoin, and topical Finsateride.
Hair Loss Treatment Type:
Combination prescription therapy (Minoxidil 5-15%+Tretinoin 0.025%) + Other ingredients (hydrocortisone, azeleic acid, finasteride, progesterone, depending on formula)
Availability:
Prescription via phone/in-office consultation
Clinical Results:
Up to 75% of individuals saw regrowth after 10 weeks compared to 25% for 5% Minoxidil and none for the placebo.
Safety/Side Effects:
Side effects are rare. Most common is scalp irritation/itching.
Typical Cost:
Varies by formula.