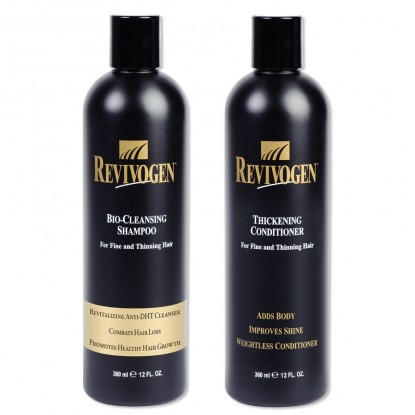 Revivogen is a natural formula and shampoo to help treat hair loss. Revivogen uses all-natural herbs and minerals to help block Dihydrotestosterone (DHT), the male hormone believed to be responsible for causing hair loss.  The main herbal ingredients of Revivogen are:
Gamma Linolenic Acid (GLA), Alpha Linolenic Acid (ALA), Linoleic Acid, and Oleic Acid- Essential Fatty Acids
Azelaic Acid
Vitamin B6
Zinc
Saw Palmetto Extract
Pygeum
Procyanidin Oligomers (Grape Seed Extract)
Hair Loss Treatment Type:
All natural ingredients which have scientific evidence of DHT-reduction or blocking.
Availability:
Online.
Claimed Results:
Their internal clinical testing showed 88% reduction of hair loss within 8 weeks, thickening of hair in 91% of individuals by week 12 and additional improvements in density over the following 6-18 months.
Observed Results:
Some Regrowth visitors report positive results.
Clinical Results:
No independent double-blind, placebo controlled clinical testing yet, but their web site states that they are currently doing further clinical studies.
Safety/Side Effects:
No major side effects were reported.  Mild scalp irritation reported by less than 2% of individuals.
Gender:
Either.
Typical Cost:
Three month supply $89.00 with Shampoo $99.00