Scalp expansion and extension surgeries are both based on the same concept. The concept is that a when a constant force is applied to skin, the skin cells will start to grow new skin cells to allow the skin to adjust to the force that's being applied to it. Over a period of time, the skin adjusts to the new situation. With this theory in mind, the scalp expansion and extension surgeries insert medical devices into the scalp designed to slowly expand the skin over a period of weeks. Each involves two surgical procedures: one to insert the device(s) and one to remove them and perform the final reduction of the bald scalp using the newly grown skin with hair. The benefit of a scalp expansion or extension is that unlike Male Pattern Reductions which may have several operations to get similar results, the expansion and extension have only two operations. However it is a more complex surgical operation and requires the use of devices which are hard to publically conceal.
| | |
| --- | --- |
| The first step in a scalp expansion is a medical procedure in which medical balloons are inserted beneath the scalp. In a scalp extension, a different medical device with hooks is attached to the scalp which applies force to the skin without needing to insert balloons underneath the skin. | |
| | |
| --- | --- |
| | The second step in the process is the slow expansion of the balloons over a period of weeks. The slow expansion expands the skin with non balding hair which can be used in a reduction or as part of a flap. This leads to one of the drawbacks of the surgery, which is that the persons head appears contorted during this portion of the process. |
| | |
| --- | --- |
| The third step involves removal of the ballons and a the unnecessary bald flap of skin which will be reduced. The newly expanded skin now covers the area of balding skin which was removed. | |
| | |
| --- | --- |
| | The final step in the procedure is to close the reduced area and let the healing process begin. A transplant surgery is usually done as soon as the affected area has healed. |
A scalp expansion patient before and after surgery.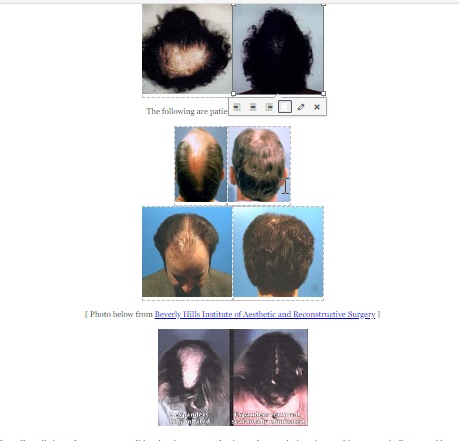 These are obviously fairly complex surgical procedures that should not be done lightly. They offer a distinct advantage over traditional male pattern reduction and can make it easier to achieve cosmetically acceptable transplant results in those who are already very bald. They are not for everybody, but they are appropriate for some individuals.
The photographs and illustrations above were graciously provided by Dr. Carlos Puig and Puig Medical Group of Houston, TX. (800) 882-7472