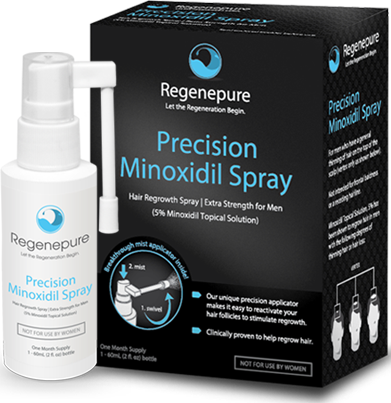 New York, NY (PRWEB) June 20, 2013 — Salonceuticals (www.salonceuticals.org) has plans to release a revolutionary minoxidil treatment made especially for men suffering from androgenic alopecia or hair loss called RegenePure Precision Minoxidil Spray.
Minoxidil is an FDA-approved treatment for hair loss that has been shown to reverse the effects that male sex hormones have upon the hair follicles, prompting hair thinning and eventual loss. The new RegenePure Precision Minoxidil Spray contains the strongest over-the-counter formula of minoxidil allowable and features a unique application system designed to enhance the effectiveness of the drug.
Called the fine mist applicator, this system delivers minoxidil directly to the scalp, where the medication can have the biggest benefit. The unique fine mist applicator was developed to give men an alternative to current minoxidil preparations. Unlike a liquid-based minoxidil treatment, the fine mist is neat and easy to apply. The applicator also allows for fuller absorption by the scalp than foam-based minoxidil products.
For maximum benefits, RegenePure Precision Minoxidil Spray is designed for use with RegenePure DR Shampoo. This formula contains ketoconazole and a host of natural ingredients that unclog the hair follicles and encourage new growth, especially when used in conjunction with RegenePure Minoxidil Precision Spray.
RegenePure Precision Minoxidil Spray will be available on July 31st , 2013 on the RegenePure online store (www.regenepure.com) and from select distributors worldwide.