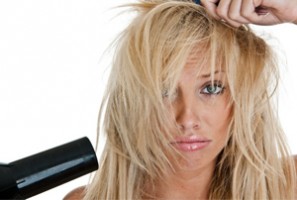 If you weren't happy with the hair you were born with or simply want a change in your overall appearance, a popular remedy for this is to relax your hair. Although this can make you a lot happier (which is always a good thing), it can cause traumatic damage on your hair and scalp. If you are someone who has suffered from hair loss due to chemical relaxing, there are a few simple ways to prevent further damage, while maintaining a healthy head of hair.
The first tip is to ditch the heat. If you absolutely must due to an event or special occasion, by all means, do what makes you comfortable, but keep in mind that adding heat to already damaged hair is a recipe for disaster. Make sure to use the lowest heat setting or your hair could literally burn off in chunks. Also, make sure that your hair is completely dry before using a curling or flat iron. Add a quick spray of heat protector prior to any heat use and don't prolong the time in which the heat comes in direct contact with your hair strands. When using a curling iron, don't let the barrel of the iron cover to clamp down on your hair. Having the barrel slightly open will allow the hair to move over the curling iron barrel without tugging, causing further breakage.
Secondly, stay away from ALL petrolatum and mineral oil hair oil as moisturizers. These ingredients do not moisturize the hair, but instead functions as a sealer. In turn, it protects the cuticle layer from damage and moisture loss. For maximum results, use lighter weight oil, such as jojoba, coconut, almond or olive oil instead. Rubbing one or two drops into your palms and spreading lightly through the scalp of hair. Comb it evenly to make sure that you get to the tips of your hair. If you are against full head masks, you can use a small amount of any of these approved oils to the ends of your hair, acting as a leave in conditioner that will work for hours after.
Thirdly, deeply condition your hair every week. Take a creamy deep conditioning treatment that is free of alcohol, sulfates, parabens, DEA and harsh chemicals. This will help prevent further aggravating the scalp. For maximum results, put the conditioner all over your head from root to tip and then apply a shower cap and let it sit for at least 30 minutes. It is better to ditch the "sitting under the dryer" method as the heat can further exacerbate your problem.
By following these three simple steps, you will be on the road to full hair recovery. Remember that heat does more damage than good, especially on relaxed hair that has already had a deep chemical and heating.