New England Patriots quarterback Tom Brady may be fighting the battle of hair loss and seeking a hair transplant.
Tom Brady is known for many things. A superbowl champion. An elite, future Hall of Fame quarterback for the NFL. His good looks and his romantic partners. This year he has had some extra attention for his Justin Bieber-like haircut. Now he gets to add one more thing to his list: hair loss.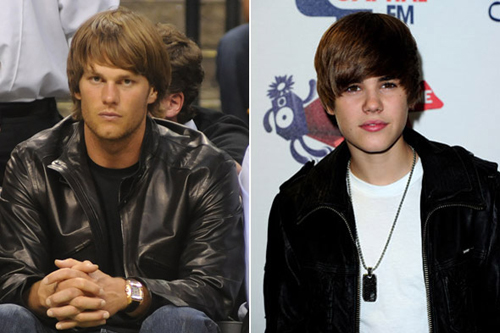 Tom Brady raised some eyebrows earlier this year at the NBA playoffs with his Justin Bieber-like haircut. Bieber is pictured on the right.
Some say Tom Brady's shaggy mane this year is concealing his hair loss.

Brady has kept his hair long this year. While some take that as influence from the west coast where he has been spending more time in his offseasons, there appears to be another reason. To cover up a
From some reports, Tom Brady is now a member of the team of men fighting the battle against hair loss. It was reported last week that Brady's car was spotted outside Leonard Hair Transplant Associates in Cranston, Rhode Island.receding hair line.
"We don't comment on, confirm, deny or otherwise discuss matters related to our client list," said Leonard's office in a statement.
This week, the makers of Rogaine got into the act for some free publicity. Their PR representative said "He shouldn't just try and grow his hair to cover that bald spot…he should try and regrow the HAIR that belongs there!"
They offered to send Brady a 3-month supply of Rogaine free to try.
Other options before hair transplant is to see if hair loss products proven to stop hair loss works for Brady such as hair loss shampoo or hair loss supplements.
The Evidence
Most Brady photos show him as having a great head of hair, and for now he still does. But the photos below clearly indicate he has pattern hair loss thatis gradually progressing. The photo on the left was taken before his marriage to Gisele Bundchen in early 2009 and even then you can clearly see thinning at the temples and in the frontal area of his hair. In the picture in the center, his temples have receded even further. It is reported Brady has hair loss at the back as well but the picture on the right was the best we could find showing his loss there.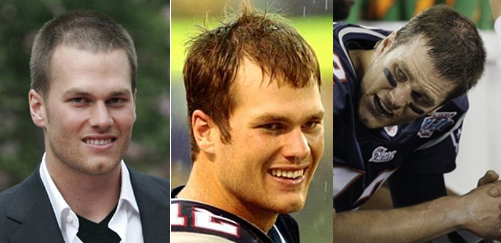 According to the National Enquirer, Brady was prompted to go by his wife, Gisele Bundchen. "Gisele wants to maintain that perfect-couple image – the handsome quarterback with a head full of hair and the stunning model with her own long flowing locks."
It may be a testament to Tom's healthy lifestyle that his hair has lasted as long as it has. Dr. Leonard himself was quoted in the Boston Herald regarding Tom's visible thinning two years ago saying Tom may have inherited his hair loss genes from his father.
"The apple doesn't fall far from the proverbial baldness tree," said Leonard.
Tom Brady and has Dad sharing a moment. Things are looking bad for Tom's hair if they share the same hair loss genes.
Related Hair Loss Articles