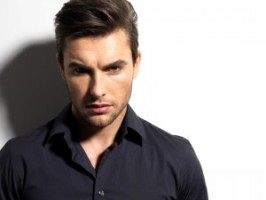 Hair loss can affect people of all ages for a number of different reasons, while you may be using hair loss shampoos and treatments to regrow your hair, we all know it doesn't happen overnight.  So while your hair is in the process of re-growing, chances are you will still have to deal with the look of thin or thinning hair.  Luckily there are some hairstyling tips that can help reduce the appearance of thinning hair and instead give it a fuller look. Check out some of these hairstyling tips for men with thinning hair.
The Shorter the Better
Don't overlook the value of a good haircut.  Whether your hair loss is very noticeable or it is simply losing some of its lust, don't be afraid to go shorter.  Shorter hair actually makes the hair look and feel thicker and fuller.  Once you decide to switch to a shorter haircut you want to make sure that your hair dresser makes clean, blunt lines and doesn't cut the hair with a razor, as this thins out the ends of the hair. If you are just starting to notice hair thinning, you may not necessarily need to switch to a shorter "do" right away but instead try a shaggy or slick back look.  Regardless of your hair type, eliminating dead, scraggly limp hair, eliminates excess weight and is usually the way to go.
Use the Right Products
As you are discovering ways to make your hair look thicker, always use methods like hair loss shampoos with beneficial ingredients like ketoconazole to help tackle hair loss from the root.  In addition to hair loss shampoos and other topical treatment, make sure to use the right styling products for your hair.  Contrary to popular belief, gels and other similar styling products do not cause hair loss.  However, being too rough with the hair can lead to breakage.  A common mistake among many men is either using a styling product that is too thick or heavy, or simply just using too much a particular product.  Many styling products can weigh down the hair and can also cause separation, revealing more of the scalp. Your goal is to add structure and the appearance of thickness to the hair.  So when it comes to styling product, more times than not, less is more. Also, avoid shiny pomades and gels as this further enhances the appearance of hair loss and hair thinning.
Style Your Hair
Styling rule #1: NEVER execute a comb over.  For those who are unaware, a comb over is when the hair on the back or on the sides are left to grow out.  These longer hairs are then combed over the balding area and held in place with an overly generous amount of styling product.  This hairstyle doesn't fool anyone because it typically doesn't decrease the appearance of hair loss but instead makes it more noticeable.
Depending on your hair, another thing you may want to avoid are parts.  Adding parts to your hair allows the scalp to become visible increasing appearance of hair loss or thinning hair.  If you find that your hair is thinning in multiple areas, keep it short and use your fingertips to apply a lightweight product to add texture.  As previously mentioned, if you are in the beginning stages of hair loss and don't wish to cut your hair short just yet, a slick back look is always a classic choice.  This doesn't mean you have to go crazy with product and you certainly don't want your hair to be shinning from miles away.  For this look try a water-based pomade.